2010 World Equestrian Games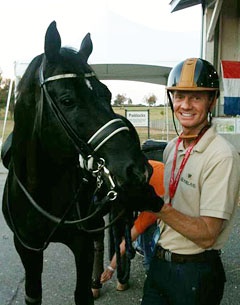 After the first few planes with horses have landed in Cincinatti where the equines go into a two-day quarantine before being shipped to Lexington, KY, most dressage riders are settling in at the Kentucky Horse Park to get ready for the 2010 World Equestrian Games which start 25 September 2010.
The Dutch and German horses were the first to fly out of Europe to the States. Those horses have already passed quarantine and are currently stabled at the Horse Park in Lexington, where the ridersdid t their first training sessions and scout the premises before the big hustle and bustle will start.
The German horses (Dablino, Sterntaler, Donnperignon and Warum Nicht, are stalled right across the Dutch horses so a steady communication line between the two rivaling camps can be maintained.
The Dutch riders experienced some travelling woes as their lay-over in Detroit did not go as well as planned. Their connecting flight to Lexington was overbooked and the riders had to wait for 6 hours for the next flight, which was then delayed for another 1,5 hour. "What a hell of a trip," said Dutch team rider Minderhoud, but we're "finally in Lexington."
WEG gold medal hopeful Edward Gal did his first ride on Totilas (by Gribaldi x Glendale)."Totilas had a very light jogging training and is very fit," Edward Gal's business partner Nicole Werner remarked. "All the horses are super fit."
Imke Schellekens-Bartels mentioned that Sunrise made it through quarantine safe and sound. "She's fit but a little excited from all the travelling and her new stall," said Schellekens. "We walked the horses under saddle and trotted them a bit. They really enjoyed that. After a few days of only walking, all horses were happy to be able to stretch their legs."
The weather is hot in Kentucky, up to 34° centigrade. "We and the horses have to get used to these temperatures now so that next week we can really get going," said Imke.
Germans Get Comfortable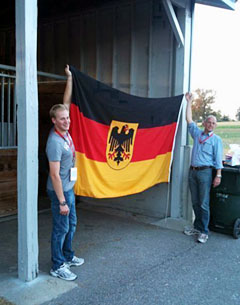 Germany's shooting star Anabel Balkenhol and Dablino reported that the stabling facilities are excellent. Dablino is in a "first-class stall in the splendid Lexington Horse Park with its amazing facilities." The chestnut Hanoverian has only been hand walked and will be ridden for the first time soon.
German Matthias Alexander Rath and his German team mates (Christoph Koschel, Isabell Werth and Balkenhol) explored the show grounds on Saturday and were impressed by the facilities. "There are innumerable possibilities and places to work the horses," said Matthias Rath. "The main stadium is wonderful." The Germans rented some bikes and golf carts to travel all the huge distances at the horse park. Rath walked Sterntaler on Saturday evening when his horse came out of quarantine.
"You notice that they are still much building up," Christoph Koschel wrote in his blog. "Flower decorations are still being planted and watered, but everything already looks very beautiful and immaculately taken care of."
Australians Looking Forward to the Action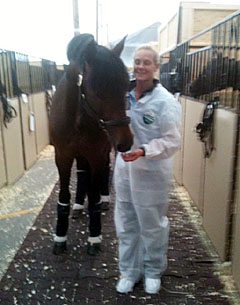 The Australian horses are still in quarantine and team rider Hayley Beresford reported that she can only see her horse being dressed up in a protection suit. "Reli (Relampago do Retiro) and I are playing ghostbusters," she wrote.
Lyndal Oatley's Dutch warmblood gelding Potifar experienced some stress getting loaded on the plane in Liege. Oatley wrote that Pot delayed "the flight half an hour with his antics and some plane maintenance added a couple ofhours onto that." Fortunately the horse calmed down quickly and all was "handled well by Hayley and the crew."
Australian team rider Brett Parbery is really looking forward to his first WEG experience. "What a great venue. Our team hotel is great," he mentioned. "Let the
fun and Games begin."
British Getting Ready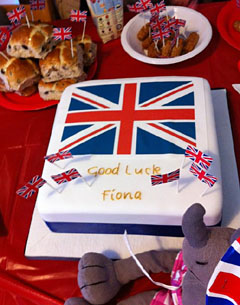 The British horses left Europe in the second shipment. Fiona Bigwood had her hands full at home while her horse Wie Atlantico was flying to the U.S.A. "We have to get that haylage in before this lovely weather turns," said Bigwood, who turned from dressage rider to farmer for a day. Bigwood's family and friends threw a special surprise "Good Luck Party Before WEG" at which they served cake with the union jack on the glacing.
British leading rider Laura Bechtolsheimer, who is a serious contender for an individual medal, told the BBC she is very much looking forward to WEG and aims to do her best. "I really hope that we can first of all do our bit for the team and then can see what we can come up with for the individual," she said. The World Equestrian Games are a lead-up to the 2012 Olympics to her. "In the grand scheme of things, the Olympics is always the pinnacle but certainly, in the equestrian calendar, the world games is virtually the same thing."
Photos (c) Koschel, Schellekens, Rath, Bigwood, Beresford
More Daily WEG news on Eurodressage.com
Back to the 2010 WEG index