Dutch Dressage News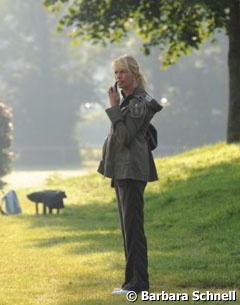 Dutch Olympian Anky van Grunsven has been hired to bring Ukraine to new heights in the international equestrian world. Vitaliy Gayduk, former Ukrainian Minister of Fuel and Energy and Secretary of the National Security and Defence Council
, has started a long-term project to get the Olympic equestrian disciplines in his country to international top level.
Van Grunsven will be responsible for dressage. "It is fantastic that I get the chance to not only train one single rider but an entire country in dressage,"
said Van Grunsven.
in 2012 Gayduk will open a brand new equestrian center near Kiev which includes  a show jumping and dressage arena, a cross country course, a number of fixed boxes and a work space for veterinarians, farriers and physiotherapists.
"The past few years, the Ukraine acted on top-level in show jumping with European riders in the Ukrainian team," said Gayduk. "But that is not the same as well-trained, talented Ukrainians that have worked themselves to the top. Therefore we need the right infrastructure and that's what we are working on at the moment."
Van Grunsven has planned to travel to Kiev once a month and will also be a host for these riders at her home base in The Netherlands.
Source: ANKY
Photo (c) Barbara Schnell
Related Links
Anky van Grunsven Gives Up and Retracts Lawsuit
Party for the Animals Poses Questions on LDR in Dutch House of Commons
Anky van Grunsven Sues Eurodressage