2010 World Equestrian Games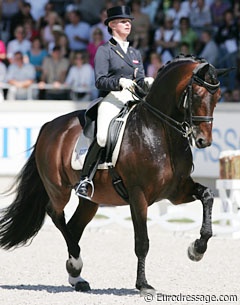 Austrian Victoria Max-Theurer will not be competing at the 2010 World Equestrian Games in Kentucky (USA). The 24-year old rider does not want to subject her top horse  Augustin OLD to the stress and strain of the long trip and quarantine.
The 10-year old Oldenburg stallion underwent colic surgery in 2009 Max-Theurer, who is currently 10th place on the world ranking list, will focus on the European Championships in Rotterdam in 2011 and the Olympic Games in London 2012. 
"It certainly wasn't an easy decision for me and my parents to make," said Vici Max-Theurer, "but I believe everyone will understand that the health of our horse Augustin OLD has absolute priority and we do not want to take any avoidable risks."
The 24-year old Austrian rider explained that ever since her horse, Augustin OLD, was operated on in the fall of 2009 because of severe colic,  he requires very special feed and continuous monitoring which cannot be guaranteed for this event because of the special regulations for entry into the United States and his stay on the venue premises.
Augustin OLD, bred by Victoria's mother Sissy Max-Theurer, is fed small portions several times a day and feeding times must be strictly observed. The presence of a groom at night is not permitted by the organizer in Kentucky. Our veterinarian did not think it would be a good idea for Augustin to switch hay and the import of European hay into the US is not permitted.
In addition, Augustin also needs an elaborate exercise program to avoid every risk of coming down with colic again.  The two-day trip to Liege (Belgium) and the nine-hour flight is followed by at least 42 hours of quarantine. During this time these horses which are at the height of training may only be walked in hand. These requirements are incompatible with the measures that are necessary to prevent any risks to Augustin's health.
With great regret Victoria Max-Theurer has decided not to ride in Lexington for the welfare of her horse. "I am very thankful for the willingness and engagement of all concerned who tried to make it possible for Augustin OLD and me to compete in the World Equestrian Games, but the risk is just too great. I now have my sights set on the EC in Rotterdam in 2011 and the Olympic Games in London in 2012. Augustin will be of prime age then and the requirements for entry and brief stay will not be so difficult.
Back to the 2010 WEG index