2010 World Equestrian Games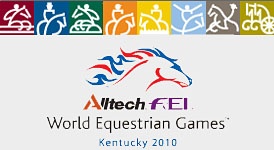 The American Chronicle of the Horse reported that the organizers of the 2010 World Equestrian Games in Kentucky, taking place in less than a month, were forced to cut their budget by $500,000 following poor ticket sales. Jamie Link, ceo of the 2010 WEG, confirmed this to Kentucky.com.
The Chronicle wrote that, "the budget cuts come after lackluster ticket sales for the Games—the numbers are hovering around 300,000 tickets sold, instead of the 600,000 that the planning committee originally estimated."
The magazine wrote that title sponsor Alltech has come to the rescue. "Alltech president, Dr. Pearse Lyons, has since stepped in with an extra $2.5 million worth of staffing and resources. Alltech staff has joined the Games staffers to help with finance, hospitality and information technology."
So far, Alltech has spent a reported $32 million on the WEG, including the original $10 million title sponsorship. "In addition, Alltech is providing several of the aesthetics that were cut, including a 30-foot welcoming tower to be positioned at the main entrance of the Kentucky Horse Park," the Chronicle wrote.
Source: Chronicle of the Horse
Back to the 2010 WEG index