2010 Dutch Young Pony Championships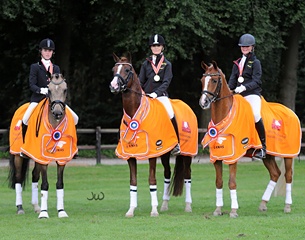 Tiesto, Heidehofs Don Diego and Champ of Class became the four, five and six-year old champions at the 2010 Dutch Young Pony Championships hosted at Gert van den Hoorn's stable in Kootwijk, The Netherlands, on 21 August 2010. 
Finalists for the 2010 Dutch Young Pony Championships had to qualify for the event at one of ten selection trials in The Netherlands. The twenty highest scoring ponies per age division were invited for the Finals. These consisted of two rounds. In the first the ponies were judged by Jan Peeters and Adriaan Hamoen and assessed on their gaits, self-carriage, suppleness, conformation and general impression. The top five pony per division were afterwards test-ridden by guest judge riders Jenny Schreven, Danielle van Mierlo and Danielle Houtvast. These three riders each rode the ponies for five minutes and gave their individual opinion which contributed to the end score. 
Jody Tissen and the chestnut Welsh pony gelding Tiësto (by Bodo) were the winners in the 4-year old division. This pony was ranked third after the first round, but the guest judge riders were all impressed by him which led to a total of 87,17 points and the overall victory. NRPS bred pony Voltage (by Voltreffer) was the reserve champion under Zoe de Booy (76,00 points), while NRPS stallion Heidehofs Hero (by Morgenlands Fabian) placed third under Rachell Fokker with 74,67 points.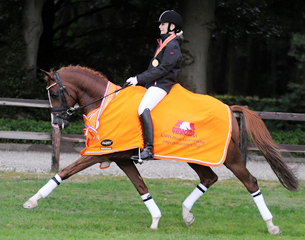 Last year's 4-year old Dutch Young Pony Champion, the Welsh bred stallion Heidehofs Don Diego (by Morgenlands Fabian), came back to reclaim the 5-year old title. Under Jody Bakker, the chestnut stallion scored the highest mark in both rounds which led to a 84,83 point total. Marjan Hooge and the German Reitpony Diamonds are Forever (by Diamond) finished second with 80,67 points. Febe van Zwambagt and the bay German Reitpony stallion FS Dr. Watson (by Don't Worry) slotted in third with 80,17 points. 
Thirteen-year old Sanne Vos and the roan German Reitpony gelding Champ of Class (by Champion de Luxe) were undefeated in the 6-year old division. The talented young dressage pony scored 84,5 points in the first round and got 90 points from the guest judge riders.  Daphne Vergouwen and the bay Welsh gelding Sandokans Pardo (by Orchard Boginov) were the reserve champions with 84,00 ponts. Demy Kurstjens and the NRPS bred Ciske van de Beekerheide (by Composer van de Beekerheide) ranked third with 80,83 points. 
Photos © Jody Wignand
Results
4-year old division
| | | | | | | | |
| --- | --- | --- | --- | --- | --- | --- | --- |
| Pl. | Pony | Sire | Breed | Rider | Round 1 | Guest Riders | Total |
|   |   |   |   |   |   |   |   |
| 1 | Tiësto | Bodo | NWPCS | Jody Tissen | 75,5 | 186 | 87,17 |
| 2 | Voltage | Volltreffer | NRPS | Zoe de Booy | 71 | 157 | 76,00 |
| 3 | Heidehof's Hero | Morganland's Fabian | NRPS | Rachell Fokker | 71 | 153 | 74,67 |
| 4 | JMH Nice Guy | FS Champion de Luxe | DRP | Michelle de Jonge | 76 | 146 | 74,00 |
| 5 | Schermeer's Hof Simba | Bodo | NWPCS | Léon Barendregt | 77 | 144 | 73,67 |
| 6 | Sudden | onbekend | onbekend | Yentl Tops | 71 | 142 | 71,00 |
| 7 | Our Bo-Gi Boy | Orchard Boginov | NRPS | Erik Braat | 70,5 | - |   |
| 7 | Hagelkruis Bastiaan | Leuns Veld's Lord | NWPCS | Denise Klaver | 70,5 | - |   |
| 7 | Ald Feart's Michael | Keulse Hoeve Zico | NWPCS | Eva Boven | 70,5 | - |   |
| 10 | Duvals Diego | White Dream Whitney | NWPCS | Nathalie van de Endt | 70 | - |   |
| 10 | Ico van de Beekerheide | Icoon | NRPS | Demy Kurstjens | 70 | - |   |
| 12 | Klein Rodenrijs Cocktail | Bodo | NWPCS | Tatjana Mulder | 69,5 | - |   |
| 12 | David van den Hout | FS Champ de Luxe | NWPCS | Tessel van Dijk | 69,5 | - |   |
| 14 | Winston | Veenstra's Promise | NWPCS | Joanna Tragarz | 68 | - |   |
| 15 | Konijnepad Cicando | Wengelo's Ricardo | NWPCS | Marjan Hooge | 67,5 | - |   |
| 15 | Morgenster Redmen | onbekend | NRPS | Larissa Hartkamp | 67,5 | - |   |
| 15 | Dollard Charly Brown | Boomer | NWPCS | Romy Babtist | 67,5 | - |   |
| 18 | Boginov's Powergirl | Orchard Boginov | NWPCS | Britt van der Panne | 66,5 | - |   |
| 19 | Keulse Hoeve Edward | Rietheim's Hilbert | NWPCS | Loes van Lier | 65,5 | - |   |
| 20 | Donar du Bois | Di Caprio du Bois | NRPS | Cristina Friedrich | 62,5 | - |   |
5-year old division
| | | | | | | | |
| --- | --- | --- | --- | --- | --- | --- | --- |
| Pl. | Pony | Sire | Breed | Rider | Round 1 | Guest Riders | Total |
|   |   |   |   |   |   |   |   |
| 1 | Heidehof's Don Diego | Morgenland's Fabian | NWPCS | Jody Bakker | 80,5 | 174 | 84,83 |
| 2 | JMH Diamond's Are Forever | Diamond | DRP | Marjan Hooge | 76 | 166 | 80,67 |
| 3 | FS Dr. Watson | FS Don't Worry | DRP | Febe van Zwambagt | 78,5 | 162 | 80,17 |
| 4 | Nocturn van de Beekerheide | Neptune van de Beekerheide | NRPS | Lisa Bekkers | 77 | 162 | 79,67 |
| 5 | Hertenhof's Nairobi | Woldhoeve's Silco | NWPCS | Bo Kragtwijk | 76,5 | 148 | 74,83 |
| 6 | Narco van de Beekerheide | Neptune van de Beekerheide | NRPS | Kirsten Dirks | 74,5 | - |   |
| 7 | Luca | Major | NNFPS | Fauve Smeets | 74 | - |   |
| 7 | Golden Power | Woldhoeve's Silco | NWPCS | Amber van Zwambagt | 74 | - |   |
| 7 | Collin | Condor | NRPS | Jolien van Kollenburg | 74 | - |   |
| 10 | Starlight | Kinka's Boy | NRPS | Rosalie Bos | 73,5 | - |   |
| 11 | Brouwershaven Joost | Woldhoeve's Silco | NWPCS | Jody Tissen | 71 | - |   |
| 12 | Champion's Campino de Luxe | FS Champion de Luxe | Westfalen | Stephannie de Wit | 70,5 | - |   |
| 13 | Stayerhof's Bor | FS Harry Potter | NRPS | Kimberly Daane | 70 | - |   |
| 14 | Anjershof All in One | Woldhoeve's Silco | NWPCS | Maud Vleeming | 69,5 | - |   |
| 15 | Silverfleet-C | Coelenhage's Promise | NWPCS | Kimberly Mank | 69 | - |   |
| 15 | Vick DH | Offem Minos | NNFPS | Meike Kroot | 69 | - |   |
| 17 | Dreamstar | Bodo | NWPCS | Rachel Bruin | 68,5 | - |   |
| 18 | Morgenland's Maureen | Bodo | NWPCS | Elisabeth Post | 67,5 | - |   |
| 19 | Day of Divinia | Deinhard B | Rheinlander | Bo Oudhof | 64,5 | - |   |
| 20 | Vivienne | Versace R | Rheinlander | Cris Haves | 64 | - |   |
| 21 | Lingo | Le Matsjo | NRPS | Marieke Versluis | 64 | - |   |
| 22 | Sugarfree Honeybee | Woldhoeve's Silco | NWPCS | Dorien Exalto | 62,5 | - |   |
| 22 | Volltreffer's Volante | Volltreffer | NRPS | Diana v.d. Bovenkamp | 62,5 | - |   |
6-year old division
| | | | | | | | |
| --- | --- | --- | --- | --- | --- | --- | --- |
| Pl. | Pony | Sire | Breed | Rider | Round 1 | Guest Riders | Total |
|   |   |   |   |   |   |   |   |
| 1 | Champ of Class | FS Champion de Luxe | DRP | Sanne Vos | 84,5 | 180 | 88,17 |
| 2 | Sandokan's Pardo | Orchard Boginov | NWPCS | Daphne Vergouwen | 80 | 172 | 84,00 |
| 3 | Ciske van de Beekerheide | Composer van de Beekerheide | NRPS | Demy Kurstjens | 78,5 | 164 | 80,83 |
| 4 | Westerhuis Bruno | Rietheim's Hilbert | NWPCS | Romy Bemelmans | 78 | 157 | 78,33 |
| 5 | Beukenhof's Ricardo | Morgenland's Fabian | NWPCS | Nanette Boeree | 78,5 | 156 | 78,17 |
| 6 | Divano du Bois | Dornik B | NRPS | Marjan Hooge | 78 | 150 | 76,00 |
| 7 | Icarus van de Bulksehoeve | Isarco | NRPS | Roos Rokven | 77 | - |   |
| 8 | Igor | onbekend | NWPCS | Eline Jonkman | 73 | - |   |
| 9 | Gi Bellmondo | FS Golden Highlight | DRP | Samantha van de Lof | 72 | - |   |
| 10 | Christel | Veenstra's Promise | NWPCS | Marit Slagter | 71 | - |   |
| 11 | Poseidon B | Prometheus B | DRP | Demi Conemans | 70 | - |   |
| 11 | Ginger | Contus | DRP | Demy Kurstjens | 70 | - |   |
| 13 | Nanouche | Pionier's Baltazar | NWPCS | Luca Veraart | 69 | - |   |
| 13 | Paint & Power | Griashall Kiwi | NWPCS | Floor van Manen | 69 | - |   |
| 15 | Coelenhage's Quattro | Coelenhage's Let's Be the Best | NWPCS | Demi Wouters | 68 | - |   |
| 16 | Denver | De Vito II | NRPS | Daphne Vergouwen | 67 | - |   |
| 17 | Romano | Wester Aikema's Caspar | NWPCS | Beau van Kimmenade | 65,5 | - |   |
| 18 | Victor | Vitano | NRPS | Kristi Ernst | 64 | - |   |
| 19 | Shirley | Vitano | NRPS | Karin Brunink | 63,5 | - |   |
Related Link
Heidehofs Don Diego, Guardian B and JDJ Keimpe Win 2009 Dutch Young Pony Championship