2010 World Equestrian Games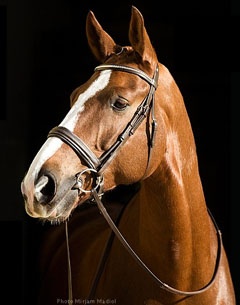 Spanish team anchor Beatriz Ferrer-Salat will not be taking her shooting Grand Prix star Delgado (by De Niro x Weltmeyer) to the 2010 World Equestrian Games in Lexington, KY, 27 September - 1 October 2010.
Ferrer-Salat's 9-year old Westfalian Delgado was supposed to compete at the 2010 CDIO Aachen mid July. Even though the horse passed the vet check in Aachen, Beatriz felt something was wrong during training and withdrew her horse from competition. At home Delgado was examined by Dr. Roman Villar and diagnosed with a tendon injury. Villar recommended to have the injury treated at the Newmarket Equine Clinic in Great Britain, where Dr. White operated on the tendon. 
"The operation was a success. In some weeks Delgado can begin his training again. They think he should be ready to compete in six months," Spanish chef d'equipe Bobby Fernandez de Bobadilla told Eurodressage. 
Another one of Spain's team horses, Jordi Domingo's Prestige (by Ferro), has been struggling with an injury. He's back on the road to recovery but his team nomination will only be decided upon at the end of the month. 
"Prestige is being ridden and things look very well, but no decision will be taken until the end of August. If there is any risk implied, he will not go to Kentucky," de Bobadilla explained. 
The Spanish A-listed riders, who are currently in training camp at Jan Bemelmans' place in Germany, will all compete at the CDI Cappeln this weekend. Cappeln is for the Spanish team candidates an official selection event. 
Team hopefuls are:
Juan Manuel Muñoz, Fuego XII 
Claudio Castilla, Jade de MV 
Jose Maria Sanchez Cobos, Fogonero IX
Jose Antonio Garcia Mena, Norte 
Rafael Ortiz, Gnidium
"Juan Manuel Munoz and Claudio Castilla are already selected to form part of the team in Kentucky," said de Bobadilla. "The other two members depend on Prestige going or not."
Photo © Mirjam Madiol
Related Links
Spanish Team Suffers Set Back Leading up to 2010 CDIO Aachen 
De Niro Lookalikes Dominate 2010 CDI Fritzens and Conquer International Dressage Scene