Hanoverian Breeding News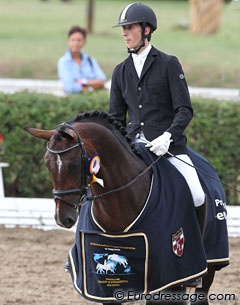 Sir Donnerhall offspring made their mark at the 2010 Hanoverian Riding Horse Championship hosted coincidingly with the 2010 World Young Horse Championships in Verden, Germany, on 4 - 8 August 2010.
Two Sir Donnerhall sons were champions in the 3 and 4-year old stallion division. The 3-year old stallion Sean Connery (by Sir Donnerhall x Rotspon) won his divison under Jan Steiner. Owned by the Dressage Horse Performance Centre in Lodbergen, Sean Connery scored 8.33 and beat Andreas Helgstrand and Mr Aggesen's Belstaff (by Brentano II x De Niro). The 4-year old stallion Snap Shot (by Sir Donnerhall x Alabaster), owned by Pferd24, scored 8.58 under Rieke Schnieder to win his class.
The 3-year old mare Doris Day (by Desperados x Brentano II) bested the Mares and Geldings division under Hermann Burger with the highest score of all Hanoverians at this championship: 8.67. The 4-year old gelding Ravel (by Rotspon x Lauries Crusador xx) was the best in his group. Under Sebastian Albers he finished first with 8.25.
Results
3-year old Hanoverians - Stallions
1. Sean Connery (Sir Donnerhall x Rotspon) - Steiner, Jan - 8.33
2. Belstaff (Brentano II x De Niro) - Westendarp, Johannes- 8.25
3. Tannenhof's Fahrenheit (Fidertanz x De Niro) - Mattig, Nicole - 8.17
4. Vision EGI (Toronto x Embassy) - Hartmann-Stommel, Wibke - 8.08
5. Light and Cool (Light and Easy x Hohenstein) - Frieling, Sandra - 8
6. Ferdinand von Nymphenburg (Fidertanz x Metternich) - Frieling, Sandra - 7.92
7. Herzenswunsch (Herzensdieb x White Star) - Fiebelkorn, Anna-Sophie - 7.83
3-year old Hanoverians - Mares and Geldings
1. Doris Day (Desperados x Brentano II) - Burger, Hermann - 8.67
2. Hotlinesbest (Hotline x Sandro Hit) - Fiebelkorn, Anna-Sophie - 8.58
3. Dolcetto (Don Frederico x Wolkentanz I) - Fiebelkorn, Anna-Sophie- 8.5
4. Queen Annina (Quaterback x Landsieger) - Möller, Meike - 8.17
5. La Fee (Londontime x Cordoba) - Brünger, Friederike - 8.08
6. Samantha (Samarant x Welser) - Tietze, Heiko - 8.0
7. Humphrey (Hotline x Rotspon) - Kraglund, Katrine - 7.83
7. Donna Karan (Don Frederico x Rohdiamant) - Klausing, Heiko - 7.83
9. Darina K (Danone II x Donnerhall) - Mäder, Kristina - 7.75
4-year old Hanoverians - Stallions
1. Snap Shot (Sir Donnerhall x Alabaster) - Schnieder, Rieke- 8.58
2. Bailador de Amor (Breitling x Dimaggio) - Westendarp, Johannes - 8.25
3. Randolf (Riccione x Ragazzo) - Tschuschke, Amrei - 8.17
4. Shadow's Dream (Sandro Hit x Rotspon) - Wahlers, Eckhard - 8.08
5. Royalito (Royal Blend x Worldly) - Frieling, Sandra - 8.0
6. Royal Classic (Royal Highness x Florestan) - Reiser, Yvonne - 7.92
6. San Bernardino (Sandro Hit x Matcho AA) - Habermann, Mike - 7.92
8. Bequia (Belissimo x Weltmeyer) - Fiebelkorn, Anna-Sophie - 7.75
9. Sancire (Santino x Wolkenstein II) - Thormann-Chilewski, Petra - 7.33
10. Don Bosse (by Don Schufro x Rubinstein) - Johnson, Katie - RET
4-year old Hanoverians - Mares and Geldings
1. Ravel (Rotspon x Lauries Crusador xx) - Albers, Sebastian - 8.25
2. Seerose (Sir Donnerhall x Donnerhall) - Möller, Meike - 8.17
2. Samira (Samarant x Grenadier) - Frieling, Sandra - 8.17
4. Scampolo (Sir Donnerhall x Weltmeyer) - Müller, Andreas - 8.08
4. Debutante (Don Crusador x Wenzel) - Liss, Klarissa-Alexandra - 8.08
6. Davino (Dauphin x Raphael) - Böhnke, Sascha - 8.0
7. Dirty dancing (Don Frederico x Rodgau) - Liss, Klarissa-Alexandra - 7.92
7. Donna Schuffer (Don Schufro x World Cup I) - Liss, Klarissa-Alexandra - 7.92
9. Brisbane (Belissimo x Warkant) - Kubelke, Jörn - 7.67
Related Link
Eurodressage Coverage of the 2010 World Young Horse Championships