2010 World Championships for Young Dressage Horses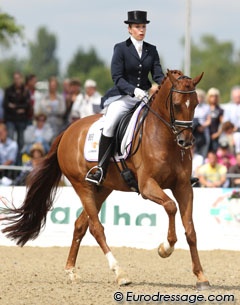 Show coverage can be stressful for a journalist. One gets to see so many world class horses at the 2010 World Young Horse Championships in Verden and there is just not enough to write about all of them.
During the tests it's all about taking photos, assessing the ride and taking notes. Then as soon as the class finishes it's rush rush to the press centre to write a piece at least on the top placed combinations, select photos, and prepare them for publication. When that's done, it's deleting all the bad pictures and sorting them in folders. When there is time left before falling asleep from exhaustion and one is hyped enough to find extra fuel in the reserve tank and inspiration in the mind, another story with pictures could pop out. 
The 6-year old Preliminary Test was marked by the high quality riding and fantastic horses this year. Here is a quick photo report of some of the other horses who were not put in the limelight, simply because of lack of time. 
Text and Photos © Astrid Appels
Back to the 2010 WCYH Index