2010 Bundeschampionate Qualifiers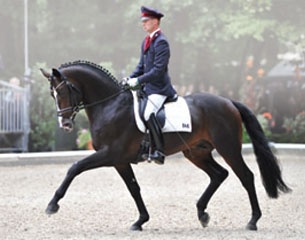 The 5-year old Repertoire and 6-year old Lord Fantastic won the Bundeschampionate qualification classes at the regional show in Neustadt/Dosse, 17 - 20 July 2010. Four horses in total obtained an entry ticket for Warendorf at this qualifier.
Ronald Lüders and the already qualified Repertoire (by Royal Olymp x Riccione) gained some extra show experience and won the 5-year old division with 8.10. They beat Julia Voigtlander on Heidemärchen, an Oldenburg bred Londenderry offspring. The pair scored 8.0.
In the 6-year old division Neustadt/Dosse state stud head rider Christian Flamm claimed the trophy for an 8.3 earning rode on the Rhinelander stallion Lord Fantastic (by Lord Loxley x Roncalli xx). Alexandra Haupt and Dawinschy (by Donnerball) placed second with 8.0.
Results
5-year old Dressage Horses
1 Repertoire - Lüders, Ronald - 8.10
2 Heidemärchen - Voigtländer, Julia - 8.00
3 Birkhof`s Sirtaki - Stankus, Falk - 7.80
4 Rastelli - Borkowsky, Diana - 7.70
5 Cinderella - Haupt, Alexandra - 7.60
6 Sir Elton - Borkowsky, Diana - 7.30
6 Dozent - Thieme, Michael - . 7.30
6 Chica Nova Marrancone - Julia Fehmarnscher - 7.30
9 Lord de Hus - Flamm, Christian - 7.20
10 Sunshine II - Bois, Fenya - 6.00
11 Rubi Tuesday - Harndt, Ulrike - 5.70
6-year old Dressage Horses - Group 1
1 Lord Fantastic - Flamm, Christian - 8.30
2 Dawinschy - Haupt, Alexandra - 8.00
3 Waldessarini - Nowak, Udo - 7.50
3 Rialto Star - Yubero Prieto, Laura - 7.50
5 Count Up - Thieme, Michael - 7.30
6 First Dance - Frahm, Steffen - 7.20
7 Her Highness Helena - Fallinski, Claudia - 6.70
Back to the 2010 Bundeschampionate Index