2010 Bundeschampionate Qualifiers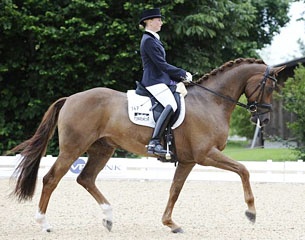 The 5-year old Olenburg Wasabi OLD and the 6-year old Hanoverian Redford won the Bundeschampionate qualification classes at the Heroldsberg Dressage Gala held 28 July - 1 August 2010. 
German young rider Victoria Michalke won the 5-year old dressage horse test aboard her Oldenburg branded Wasabi OLD. The Welt Hit IV x Lancer I offspring scored 8.2 to best a field of nine competitors in total. Former young rider Anna Katharina Luttgen and the Oldenburg bred Duvier (by Dimaggio x Absinth) finished second with 8.1. This pair tied with Dorothee Schneider on Gestut Erlenhof's Hanoverian gelding Horatio (by Hochadel x Matcho AA). 
In the 6-year old division, former European Young Rider Champion Jessica Werndl aced the class with a top notch score of 8.7. Aboard Redford, a Hanoverian gelding by Rosentau x Escudo, she was the only one to obtain the BuCha qualification score of 8.0 or higher. With her second ride Waterkant (by Wolkenstein II x Matcho AA) she placed second with 7.7. Dutch Nars Gottmer, who found a job at Meggle Dressage Stable in Germany by replying to an advertisement on Eurodressage, ranked third with Meggle's Lord d'Amour. 
Results
5-year old Dressage Horses
1. Wasabi OLD - Michalke, Victoria - 8.2
2. Duvier - Lüttgen, Anna-Katharina - 8.1
2. Horatio - Schneider, Dorothee - 8.1
4. Royal Spirit - Werndl, Jessica - 7.8
5. Sternenfänger OLD - Langehanenberg, Helen - 7.5
6. Lorentius - Grugel, Ulrike - 7.4
7. Del Primo - Schneider, Dorothee - 7.3
8. Antonio - Kronaus, Kerstin - 7.2
8. Symphonie - Asfeld, Jasmin - 7.2
6-year old Dressage Horses
1. Redford - Werndl, Jessica - 8.76
2. Waterkant - Werndl, Jessica - 7.7
3. Meggle's Lord d'Amour - Gottmer, Nars- 7.5
4. Lionel - Gottmer, Nars - 7.3
5. Dolce Far Niente - Lang, Meike - 7.2
6. Chico's Everlasting Dream - John, Andrea - 7.0
Back to the 2010 BuCha Index