2010 World Equestrian Games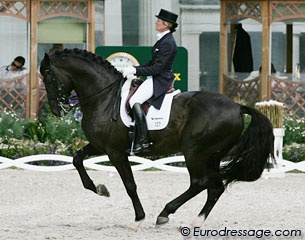 For the final stretch towards U.S. team selection for the 2010 World Equestrian Games, the United States Equestrian Federation (USEF) announced the definite combinations
 which will participate in the mandatory U.S. WEG selection trials in Gladstone, NJ, starting this week:
USEF put fifteen combinations on the long list which qualified to compete in Gladstone following high score averages obtained at CDI competitions this past show season. America's number one Grand Prix rider Steffen Peters with Ravel has been excused from participation. 
The WEG Selection Trials are part of the 2010 U.S. Dressage Championships which take place August 6-8 and August 13-15.
Susan Blinks -  Robin Hood (KWPN, by Jazz)
Tina Konyot -  Calecto V (Danish Warmblood, by Come Back II)
Lauren Sammis -  Sagacious HF (KWPN, by Welt Hit II)
Katherine Bateson-Chandler -  Nartan (KWPN, by Jazz)
Adrienne Lyle -  Wizard (Hanoverian, by Weltmeyer)
Leslie Morse -  Tip Top (Swedish warmblood, by Master)
Jan Ebeling -  Rafalca (Oldenburg, by Argentinus)
Todd Flettrich -  Otto (Danish warmblood, by Rambo)
Jan Ebeling -  Sandrina (Oldenburg, by Sandro Hit)
Pierre St. Jacques -  Lucky Tiger (Danish warmblood, by Lucky Light)
Catherine Haddad -  Winyamaro (Hanoverian, by Walt Disney I)
Shawna Harding -  Come on III (Danish warmblood, by Come Back II)
Elizabeth Austin -  Olivier (KWPN, by Idocus)
Susan Jaccoma - Wadamur (Hanoverian, by Weltmeyer)
Jane Hannigan - Makysmilian (KWPN, by Elcaro)
Photo © Astrid Appels
Back to the 2010 WEG index