2010 European Pony Championships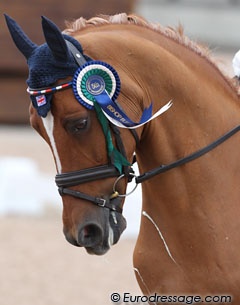 Another 6.30 AM wake up yesterday morning at the Ramada, even though I had put the alarm at 7.30. Dirk and I had breakfast in the lobby and for the first time I saw croissants as an option instead of English breakfast. Initially the day started at a slow pace with the morning off to write articles (such as these blog entries), but the action started again at 2 PM.
Round midday I wondered around the show grounds, took a quick look at the trade fair stands and then ventured to the show jumping arena where the team championship competition had started. What I saw there shell-shocked me! The first jumper I saw go round had a double refusal and for that the pony got such a cruel beating - Michael Morrissey style. He then jumped the fence but refused again at another obstacle. Hello FEI Stewards, what the hell are you doing?! See no evil, hear no evil?
I moved along the arena and for ten minutes I stood at the in-gate, where ponies -- or shall I say HORSES -- where waiting to get in. I stood right beside them and these are not 14.2 hh ponies! I'm more inclined to estimate their height at 153 to 158 centimeters. I thought official measurements were done here at the championship after the vet check, but I wonder if they are using flexi-cords to measure these "horses" instead of measuring sticks. Remember the 2006 European Pony Championships in Saumur where a British pony won show jumping gold? In the end the pony was measured at 158 centimeters. Am I too bold to remind everyone that this year's Championships are held in Great Britain?
At another moment a rider got eliminated after three refusals, but she had ridden her pony beautifully. No whip-wacking from her, but as soon as she left the ring she burst out in tears and a tirade of swearing and cursing followed, pretty vulgar language came out of the mouth of this 14 or 15-year old. Yikes!! Talk about ambition, good and bad. Time to leave that harsh show ring and get back to dressage, which all of a sudden appeared to be a world of sugar and spice and everything nice. 
The Individual Test was a fun and exciting class with some super riding. German Jessica Krieg won, Dutch Antoinette te Riele finished second and German Lena Charlott Walterscheidt ranked third. I had no problems with that ranking. When I stepped up to the judge at C, Freddy Leymen, for a quick reaction on the quality of the class, this Belgian judge deliberately and quite obstinately refused to comment. Excuse me?!
After the individual test and prize giving ceremony there was a press conference and then I started working on my report. It took HOURS to finish it and then I still had to organize my photos and prepare some for the article. It was almost 8.30 PM and we still hadn't eaten any dinner, so Dirk and I drove back to the hotel, got ourselves installed in the lobby where there was free internet access. We ate some tomato soup and I had a huge kingsize hamburger as dinner. I was barely able to finish 1/3 of that plate. We did drink some delicious New Zealand Sauvignon Blanc wine and ended up working until 1.30-2.00 AM. 
A wedding was being held at the hotel and guests were constantly walking through the lobby going outside for smokes or to catch a breather from the party. We got to see a parade of people who were either strikingly obese, "creatively" dressed, overdressed, underdressed or there even were women wearing high heel shoes of which one was broken. Hotel management had hired a doormen to keep the peace but surprisingly the buff man was not needed for the wedding party but for an uproar in the restaurant amongst the French eventing team! 
A very heated conversation was coming from the room next to the lobby and the French talk gradually became louder and more angrily. At a certain point a man was shouting right into the face of a mother and I thought he was ready to hit her. Of course the young child, a competitor at the European Pony Championships, broke out into tears and threw herself in between the two overcooked adults. Great example of parenting at a euro championships. Once more: talk about ambition, good and bad!
When I went to bed at 2 AM, I was dead tired but couldn't fall asleep because in a room right above mine the fighting continued. I first thought it were the French going at it again, but I quickly heard that they were talking English: probably inebriated wedding guests. After a loud bang (something was being dropped or so) and a final aria of shouting and swearing the noise died down and I fell asleep. 
Text, photo, video ©  Astrid Appels
Back to the 2010 ECP index