Oldenburger Breeding News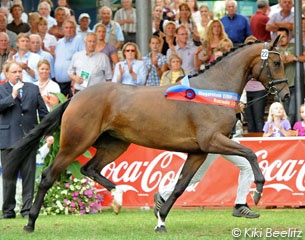 Kerstin Klieber and Ernst Kemper's 3-year old mare Fifty Fifty became the champion of the 2010 Oldenburg Elite Mare show in Rastede on Tuesday 20 July 2010. Bred by Dr. Peter Wreesmann
, this Fidertanz x De Niro x Akzent II filly stood out with her high class movements in hand as well as with her high scores at the mare performance test.
In 2007 Fifty Fifty was also the German Filly Champion at the Nationals in Lienen, Germany. She was acquired by Dr. Kerstin Klieber and partnership with E. Kemper. The bay mare became the champio of the Mare Performance Test scoring a total of 8.45 with a 10 for trot, 9 for canter, 8 for walk and 9.0 for rideability. She descends out of the damline that produced Kristy Oatley-Nist's Grand Prix stallion Quando Quando.
Christin Boekhoff's filly Sophie (by Dimaggio out of Seute Deerne (by Sandro Hit x Feiner Stern)) was proclaimed reserve champion. Eighteen mares in total were selected for the Brilliant Ring, the premium mare group from which the champion and runners up are picked. The third ranked mare was Franka, a Sir Donnerhall x Gribaldi offspring, bred by Manfred Rueter and owned by Jens Damm.
A few foreign owned mares made their mark in Rastede this year. American Marta Kaufmann acquired Flashdance at the Vechta Elite Foal auction and kept the mare in training with Johannes Westendarp. This Florencio x De Niro finished in seventh place. The Belgian owned Rosegarden (by Fidertanz x De Niro) ranked eight. She's owned by Patrick d'Eer. The Belgian bred Oldenburg mare Passionata (by Stedinger x Dream of Glory) slotted in eleventh in the Brilliant Ring. She is bred and owned by Stud Farm Ariane. 
Photo © Kiki Beelitz
Results
Pl.

 
 

Name

Breeding

Owner

Breeder

State Premium Mares - Brilliant Ring

1a

 
 
  Fifty-Fifty
Fidertanz - De Niro
Dr. Klieber + E. Kemper, Meinersen
Peter Wreesmann, Lastrup

1b

 
 
  Sophie
Dimaggio - Sandro Hit
Christin Boekhoff, Friedeburg
Owner

1c

 
 
  Franka
Sir Donnerhall - Gribaldi
Jens Damm, Wangerland
Manfred Rueter, Dorsten

1d

 
 
  Una Bailarina
Stedinger - Donnerhall
Michael Mehrtens, Jever
Owner

1e

 
 
  Wolke 7
Sir Donnerhall - Wolkentanz
Dr. Hubertus von Tiedemann, Dierdorf
Ludger Buehrmann, Buehren

1f

 
 
 
Chico's Boy - Calvin
Albert Sprehe, Essen
Owner

1g

 
 
  Flashdance
Florencio I - De Niro
Marta Kauffman, Los Angeles - USA
Bernhard Sieverding, Twistringen

1h

 
 
  Rosegarden
Fidertanz - De Niro
Patrick D'eer, Puurs - BE
Hans-Joachim Makosch, Berlin

1i

 
 
  Cassandra
Florencio I - De Niro
Werner Dullweber, Bakum
Owner

1j

 
 
  Judith
Sandro Hit - Argentinus
Paul Wendeln, Garrel
Owner

1k

 
 
  Passionata
Stedinger - Dream of Glory
Stoeterij Ariane, Oosterzele
Owner

1l

 
 
  Scala
Sir Donnerhall - Weltmeyer
Michael Eser, Egg - CH
Owner

1m

 
 
  Romantika
Don Romantic - Kalu xx
Egon Bunjes, Littel
Owner

1n

 
 
  La Palma
Diamond Hit - Royal Diamond
Reinhold Harder, Bramsche
Owner

1o

 
 
  Tiara
Florencio I - Rubinstein I
Hugo Schmidgall, Wuestenrot
Owner

1p

 
 
 
Quidamo - Pilox
Jan Sprehe, Cloppenburg
Owner

1q

 
 
  Luxia
Luxius - Pablo
Arnold Wegbuender, Nordhorn
Owner

1r

 
 
  Wenzel Prinzess
Sandro Hit - Rubinstein I
Gruendel + Koechling, Immenhausen
Owner
State Premium Candidates in Rastede


 
 
  Fabienne
Argentinus - Levantos I
Theo Hegger, Loeningen
Owner


 
 
  Cosanostra K
Clinton - Contender
Juergen Kurz, Frielendorf
Owner


 
 
  Couleurline
Couleur Rouge - Calypso II
Franz-Rudolf Sanktjohanser, Loeningen
Ferdinand Sanladerer, Neuburg-Inn


 
 
  Romanze
Cristallo I - Dinard L
Hermann Kuck, Rastede
Owner


 
 
  Balldame JM
Cristallo I - Ludwig von Bayern
Johann Martens, Uplengen
Owner


 
 
  Cassis
Diamond Hit - Alabaster
Petra + Jens Ringkamp, Bohmte
Owner


 
 
  Honeymoon
Diamond Hit - Hohenstein
 Blue Hors Aps, Randboel - DK
Klaus Reimold, Wehretal


 
 
  Majesta Duccia
Dimaggio - Don Gregory
Wilhelm Sieverding, Cappeln
Bernd Naber, Cloppenburg


 
 
  Bao-ma
Don Romantic - Don Gregory
Guenther Nitz, Aschendorf
Owner


 
 
  Gwenhwyfar
Don Romantic - Game Fox xx
Dr. Christoph Boergel, Bersenbrueck
Ursula Stelzer, Hoerstel


 
 
  Roman Love
Don Romantic - Rouletto
Ulrike Meyer, Hude
Owner


 
 
 
Don Romantic - Sandro Ace
Josef Wernke, Cloppenburg
Owner


 
 
  Tacoma
Don Schufro - Consul
Christiane + Karl Schulte-Vahrendorff, Ibbenbuehren
Michael A. Beining, Warendorf


 
 
  La Donna S
Donnerball - Landadel
Bernhard Schrapper, Groenheim
Owner


 
 
  Rivera
Florencio I - Feiner Stern
Heinrich Hegeler, Ganderkesee
Owner


 
 
  Rubina S
Florencio I - Harvard
Bernhard Schrapper, Groenheim
Elke Siewe, Lohne


 
 
  Rebella
Florencio I - Lord Liberty G
Frank Grote, Neuenkirchen
Owner


 
 
  Elfenfeuer
Florencio I - Sion
Ewald Grotelueschen, Wardenburg
Owner


 
 
  Sanca di Roma
Fürst Heinrich - Sandro Hit
Marjon Herbers, TE Valthermond
Johannes Albers, NL - Valthermond


 
 
  Elekta
His Highness - Rubinstein
Heinrich Giesselmann, Barver
Hans Francksen, Butjadingen


 
 
  Fatuna S
Hofrat - Donnerhall
Bernhard Schrapper, Groenheim
Karla Rouenhoff, Goch


 
 
  Wine Line
Hotline - Don Gregory
Holly Simensen, West Palm Beach 2054 - USA
Owner


 
 
  Kirmen De Mars
Kaiser Karl - Littorio
Caroline Op de Beeck, Wingere - BE
Bauwens + Eenoo, B - Zeebrugge


 
 
  Elfenstern
Kaiser Karl - Rohdiamant
Georg Meyer, Nutteln
Owner


 
 
  Luftzauber
Lord Pezi - Landfriese I
Franz-Rudolf Sanktjohanser, Loeningen
Matthias Smitz, Dinklage


 
 
  Lady Lordana
Lordanos - Landor S
Gerd Sosath, Lemwerder
Owner


 
 
  Serenity B
Romanov Blue Hors - Sandro Hit
Mario + Kay Boeschen, Bad Zwischenahn
Robert + Sabine Beyer, Westerkappeln


 
 
  Red Rose
Rosario - Sandro Khan
Bernd  Richter, Berlin
Owner


 
 
  Enya
Samarant - Don Gregory
Andreas Wempe, Cappeln
Owner


 
 
  Esmeralda
San Schufro - De Niro
Adams + Seeger-Adams, Grossenkneten
Ernst Fleitmann, Grossenkneten


 
 
  Sabrina
Sandro Hit - Donnerhall
Frank Dalhoff, Lippetal
Bernhard Arkenberg, Damme-Osterfeine


 
 
  Carina
Sandro Hit - Rubinstein I
Paul Warnke, Goldenstedt
Owner


 
 
  Scarlet
Sir Donnerhall - Napoleon Quatre
Ulrich Haustein, Tangstedt
Marin Schoenfeld, Bad Bramstedt


 
 
  Remirell
Sir Donnerhall - Pik Labionics
Linda Jochheim, Luedinghausen
Bernd Luebbers, Bunnen


 
 
  Olivia
Stedinger - Lordanos
Niels de  Bruijn, Rijsbergen - NL
Karin Hohnholz, Berne-Koeterende


 
 
  Sienna
Stedinger - Wolkentanz II
Gabor Szecsi, Menslage
Helmut Schulte, Fuerstenau


 
 
  ERA Wunderschöne
Sunny-Boy - Donnerhall
Gestuet ERA, Hobro - DK
Leenert Cornelius, Ovelgoenne
State Premium Candidates, who did not participate in Rastede


 
 
  La Una
Cornet's Stern - Conterno Grande
Zuchthof Breher, Loeningen
Georg Breher, Loeningen


 
 
  Dolce Vita 
Dr.Doolittle - Harvard
Clemens Fleming, Loeningen
Owner


 
 
  Diana II
Fidertanz - Rubin-Royal
Paul Kreienborg, Vechta
Owner


 
 
  Gloria
Hotline - Sandro Hit
Gerd Berges, Cappeln
Owner


 
 
  Quaprice
Quidam de Revel - Pilot
Michael Kotter, Tettenweis
Owner


 
 
  Drushba
Sir Donnerhall - Grundstein II
Wempe +  Tiemann, Cappeln
Heinrich Hoeffer, Cloppenburg
Related Links
Carlotta Wins 2009 Oldenburg Elite Mare Show in Rastede
Weihegold Wins 2008 Oldenburg Elite Mare Show in Rastede