2010 CDI Hartpury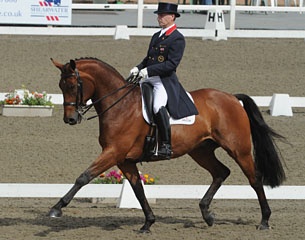 Richard Davison, and the Countess of Derby's and John Dodd's charismatic rising star Hiscox Artemis , continued their winning run by dominating the big tour classes at last weekend's Hartpury CDI.
They stormed to victory in the Gala Evening Kur on Saturday night with a whopping 77.1%, following their success the previous day where they secured yet another grand prix win with 70.5%.
Davison is doing an exemplary job of producing Hiscox Artemis and refuses to be steered off-course, in spite of some suggesting the gelding should go to WEG in a couple of months' time.
Davison comments: "I don't believe Artemis will be ready for a championship this year and, however tempting it may be, I have to put my responsibilities to my horse and his owners before my own ambitions. We will have a strong team in WEG and, having just taken bronze in Aachen, I have every confidence they can bring home more medals."
Davison has always been open and clear when it comes to Hiscox Artemis' long-term plan – the Europeans next year followed by their main target - the Olympics the year after.
This plan is clearly working – Hiscox Artemis has triumphed on twelve occasions at CDI level within the last twelve months, including the Kampmann Cup Final in Germany and the recent Lipica World Cup qualifier and at each recent show, they have achieved a personal best.
Davison adds: "It's brilliant how Artemis is now able to show-off his talent and ability, and both the owners and my home team are enjoying his progress and lapping up his success."
Next week the pair will be in action again at the Hickstead CDI where specialist insurer Hiscox has been a long-term sponsor.
Related Links
Scores 2010 CDI Hartpury 
Hiscox Artemis Performs for the Queen