2010 CDIO Aachen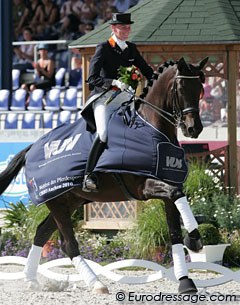 Aachen Press Release -- The Dutch dominance continued in the Prix St. Georges at the 2010 CDIO Aachen when Imke Schellekens-Bartels rode to victory in the Prix St Georges on the 10-year-old Jazz x Havidoff son Toots. The rider who won team silver at the Hong Kong Olympics scored 70.132 percent.
The following four ranked riders were extremely close in score. Brigitte Wittig, the wife of Isabell Werth's trainr Wolfram Wittig came second with the 7-year-old Balmoral W (69.925%). Balmoral W is a son of Wolfram Wittig's Grand-Prix winner, Breitling, who is the basis of the Wittig family breeding concept.
Third place went to the Austrian rider Victoria Max-Theurer with the eight-year-old Münchhausen son Moliere (69.756).
Back to the 2010 CDIO Aachen index