2010 CDIO Aachen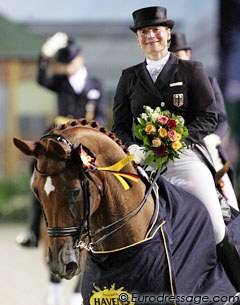 As an incredible thunder storm struck the Aachen show ground the dressage riders in the Grand Prix of the CDI Tour were forced to take a short break. However, the competition resumed an hour later amid glorious weather in a floodlit arena. And the spectators cheered the convincing winner, as nobody doubted that this was the victory after her salute.
Isabell Werth (Rheinberg) won the Grand Prix CDI with Warum nicht FRH. With a score of 75.623 percent the 40-year-old left her fellow competitors trailing behind, since Monica Theodorescu (Füchtorf), who was a member of the bronze-winning team at the European Championsips in Hickstead in 2009 with Whisper, was awarded a score of 70,243 for her performance, i.e. a difference of over five percent.
Third place went to Theodorescu's fellow European Championship team member, Matthias-Alexander Rath (Kronberg), who scored 69.696 percent with his no. 2 horse Triviant UNICEF.
-- Aachen press release
Photos © Astrid Appels
CHECK OUT The Photo Gallery Below - 10 More pictures with comments uploaded
Back to the 2010 CDIO Aachen Index