IDRC News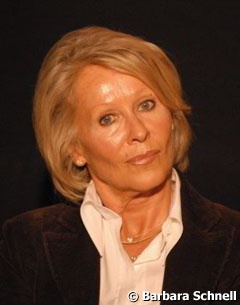 French Olympic dressage rider Margit Otto-Crepin has resigned as president of the International Dressage Riders Club. For twelve years the 65-year old German born Otto-Crepin headed the IDRC board of directors.
"I believe that the time has come to allow someone new to take over the reins as leader of the organisation," Otto-Crepin explained.
Though she is stepping down from her position, the four time Olympian continues to believe in the influential strength of the club. "Together with members of the IDRC board and others I have worked hard to establish the IDRC as an important member of the FEI community," she said. "I have confidence that the IDRC will continue to grow in size and influence and remain a robust representative body for international dressage riders."
Otto-Crepin will remain at the head of the IDRC until a replacement has been appointed by the board, which currently has Kyra Kyrklund as vice-president and Wayne Channon as secretary-general.  
As IDRC chair Margit is also a member of the FEI Dressage Committee elected at the 2009 General Assembly in Copenhagen. "I will finish my term as member of the FEI Dressage Committee (in 2011) and will stay involved in the dressage sport," Otto-Crepin told Eurodressage exclusively.
Photo © Barbara Schnell / Text © Eurodressage - No reproduction without permission
Related Links
New FEI Dressage Committee Elected at 2009 FEI General Assembly
Greatest Oldies: Corlandus, Majestic Power