2010 French Pony Championships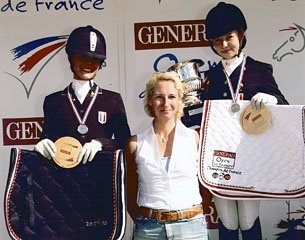 French born but German based Joy Albeck won the 2010 French FEI Dressage Pony Championships hosted at the Lamotte Beuvron Federal Equestrian park on 1 - 4 July 2010. Victoria Saint-Cast earned the silver and Victoria Boree collected the bronze medal.
The 2010 French Pony Championships consisted of two rounds, the team championship and individual test. Berlin based Joy Albeck won both rounds aboard the chestnut pony Wimbledon scoring 70.83% and 69.47%. She felt 16-year old Victoria Saint-Cast breathing down her neck as the young girl finished second twice with 69.35% and 69.12%. Saint-Cast is trained by Marina van den Berghe but was assisted at this show by Manuella Keller (Dolf-Dietram's wife) who came down to France to train Joy Albeck. 
The battle for bronze was a tough one as well with Alexia Ducos Blanchet and Victoria Boree heading the race neck-to-neck. Ducos Blanchet and Darius were third in the team test with 68.06% but Boree and her chestnut Doppelspiel were third in the individual with 69.04%. The latter's average score of 68.46% was higher than the former's so the 16-year old Boree, who celebrated her birthday at the show, claimed bronze. 
At the French nationals a third pony class was hosted, a kur to music to win the "Trophy des As." However, the announced French pony team riders, top placed in the Championships, were advised by French chef d'equipe Alain Franqueville not to compete in it in order to save their ponies for the European Championships in three weeks time. The winner of the trophy was Alexia Ducos Blanchet. 
Top Right Corner: Video of the 2010 French Championships with an interview with the winner Joy Albeck
Video © www.moncava.com
Results
Round 1 - Team Championship Test
1. Joy Albeck - Wimbledon - 70.83%
2. Victoria Saint Cast - Dragon Heart - 69.35%
3. Alexia Ducos Blanchet - Darius - 68.06%
4. Candice Mus - Ever des Chouans - 67.50%
5. Victoria Boree - Doppelspiel - 67.31%
6. Celine Miereanu - Oualidaluna - 66.30%
7. Caroline Dufil - Ivry de Montoux - 65.28%
8. Ninon Ciesla - Jaipur Vert et Blue - 65.19%
8. Florian Aubin - Glacy du Halage - 65.19%
8. Constance de Girard - Peter Pan - 65.19%
11. Morgane Euriat - Italic des Landes - 65.00%
12. Capucine Moliex - Milord de Bedou - 64.35%
13. Lisa Cez - Opale des Vnts - 63.89%
14. Indiana Lynn - Ossborne - 62.87%
15. Luce Bentejac - Paparazzi - 62.69%
16. Clarissa Rufin - Dacapo - 55.56%
Round 2 - Individual Test
1. Joy Albeck - Wimbledon - 69.47%
2. Victoria Saint Cast - Dragon Heart - 69.12%
3. Victoria Boree - Doppelspiel - 69.04%
4. Alexia Ducas Blanchet - Darius - 68.25%
5. Candice Mus - Ever des Chouans - 67.81%
6. Caroline Dufil - Ivry de Montoux - 65.96%
7. Celine Miereanu - Oualidaluna - 65.44%
8. Capucine Moliex - Milord de Bedou - 65.18%
9. Ninon Ciesla - Jaipur Vert et Blue - 64.82%
10. Florian Aubin - Glacy du Halage - 64.65%
11. Morgane Euriat - Italic des Landes - 63.68%
12. Constance de Girard - Peter Pan - 63.07%
13. Lisa Cez - Opale des Vnts - 62.54%
14. Indiana Lynn - Ossborne - 61.40%
15. Clarissa Rufin - Dacapo - 60.88%
Luce Bentejac - Paparazzi - DNS
2010 French Pony Championships
1. Joy Albeck - Wimbledon - 69,93 %
2. Victoria Saint Cast - Dragon Heart - 69,20 %
3. Victoria Boree - Doppelspiel - 68.46%
4. Alexia Ducas Blanchet - Darius - 68.18%
5. Candice Mus - Ever des Chouans - 67.70%
6. Caroline Dufil - Ivry de Montoux - 65.74%
7. Celine Miereanu - Oualidaluna - 65.72%
8. Ninon Ciesla - Jaipur Vert et Blue - 64.94%
9. Capucine Moliex - Milord de Bedou -   64.90%
10. Florian Aubin - Glacy du Halage - 64.83%
11. Morgane Euriat - Italic des Landes - 64.12%
12. Constance de Girard - Peter Pan - 63.78%
13. Lisa Cez - Opale des Vnts - 62.99%
14. Indiana Lynn - Ossborne - 61.89%
15. Clarissa Rufin - Dacapo - 59.10%
Related Links
French Team Selected for 2010 European Pony Championships
Hel and Judet Cheret Win Gold at 2009 French Youth Riders Championships