2010 Bundeschampionate Qualifier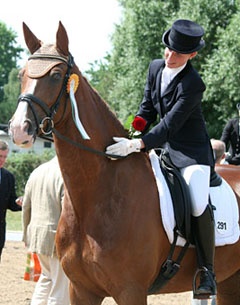 Seven horses were able to meet the qualification criterium for the Bundeschampionate at a trial hosted at the 2010 Rhinelander Regional Championships in Langenfeld, Germany, 2 - 4 July 2010.
Paulina Krafft and her chestnut Oldenburg gelding Douceur (by Diamond Hit x White Star) won the 5-year old division with 8.40. The combination scored a 9 for walk, 8s for trot and canter and 8.5 for submission and general impression. Danish Kristine Moller and Jens Thorsen's grey Trakehner stallion Hamilton (by Distelzar) landed a second place with 8.3. Ton de Ridder's apprentice Max Wadenspanner slotted in third on Edgar Wallace (by Ehrenwort) with 8.2. Two horses tied for fourth place: Jana Freund's FS Lord de Luxe (by Lord Loxley x Lancer II) and Anna Katharina Luttgen's Devallier (by Dolany x Linaro). They both scored 8.0 and will go to Warendorf.
Two horses made the cut in the 6-year old division. Lydia Camp and the chestnut mare Finnya (by Furst Picollo x Dunhill H) scored 8.3 to top the leader board. Christine Nolden and the dark bay mare Sanubi (by Sandro Hit x Rubinstein) finised second with a solid 8.0.
Photo © Rheinische Meisterschaften
Results
5-year old Dressage Horse Test
1. Douceur - Krafft,Paulina - 8.40
2. Hamilton - Möller,Kristine -8.30
3. Edgar Wallace - Wadenspanner,Max - 8.20
4. FS Lord de Luxe - Freund,Jana - 8.00
4. Devallier - Lüttgen,Anna-Katharina - 8.00
6. Arietta - Wolf,Stefanie - 7.80
7. Ribery - Schöffmann Dr.,Britta - 7.70
8. Fürstin Fabriana - Bartz,Lydia - 7.60
8. Frauenheld - Kleimeyer,Christoph - 7.60
8. Duvier - Lüttgen,Anna-Katharina - 7.60
8. Kingston - Sommer,Henrike - 7.60
12. Richwin - Camp,Lydia - 7.50
12. Lord Tomason - Kleimeyer,Christoph - 7.50
14. Lugano - Hetzel,Jakob - 7.20
15. Kingdom for Margaux - Kiesewetter,Sandra - 6.50
6-year old Dressage Horse Test
1. Finnya - Camp,Lydia - 8.30
2. Sanubi - Nolden,Christine - 8.00
3. Casino Royale - Lüttgen,Anna-Katharina - 7.80
4. Lord of Dance - Frenzen,Annabel - 7.40
5. Ayers Rock - Bültjer,Erik - 7.30
6. First Edition - Bunse,Dominique - 6.90
6. Beaufort - Rund-Köllner,Gabriele - 6.90
6. Hadrian - Wenzel,Andrea - 6.90
9. Lamonte - Wolf,Stefanie - 6.70
10. Lion Heart - Simon,Anke - 6.40
Back to the 2010 Bundeschampionate index