2010 Bundeschampionate Qualifier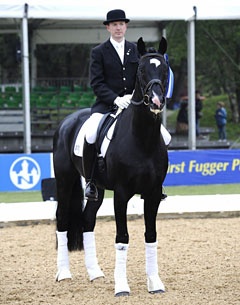 Fackeltanz OLD and Lobenswert pushed for power at the Bundeschampionate selection trial at Hofgut Allerer in Waakirchen, Germany, 2 - 4 June 2010. The scoring potential in the five year old division was much higher than in the 6-year old dressage horse test.
Belgian Carl Cuypers won the 5-year old division with Sissy Max-Theurer's Oldenburg licensed stallion Fackeltanz OLD (by Florencio x Feinbrand x Thymian xx). The duo achieved 8.5 for trot and walk, 9 for canter, 7.5 for submissiveness and 8.5 for general impression to total 8.40. Former European Young rider champion Jessica Werndl finished second with Royal Spirit, a Hanoverian branded Blue Hors Romanov x Weltgeist offspring. This charming pair achieved 8.0 with solid 8s for gaits, submission and general impression.
Christina Boos and the grey Westfalian gelding Lobenswert (by Lissabon x Athlet Z) aced the 6-year old class with 7.70. Felicitas Kirschner and the Bavarian mare Faccia (by Florestano x Weltmeyer) ranked second with 7.6 whereas Dutch rider Nars Gottmer finished third on Meggle's Lord d'Amour (by Lord Loxley x Champus) with 7.5. Gottmer has become a stable rider for German Grand Prix rider Dieter Laugks at Meggle stable in South Germany after responding to an advertisement in Eurodressage's Groom's Corner.
Results
5-year old dressage horses
1. Fackeltanz OLD - Carl Cuypers - 8.40
2. Royal Spirit - Werndl,Jessica - 8.00
3. Franz Joseph - Kornprobst,Ralf - 7.60
4. Royal Paul - Michalke,Victoria - 7.50
5. Antonio - Kronaus,Kerstin - 7.20
6. Riamant - Hergeth,Angela - 6.90
7. Renaissance - Wischnik,Ariane - 6.80
8. Stresemann - Hergeth,Angela - 6.70
6-year old dressage horses
1. Lobenswert - Boos,Christina - 7.70
2. Faccia - Kirschner,Felicitas - 7.60
3. Meggle`s Lord d`Amour - Gottmer,Nars - 7.50
4. Fonteyne - Harrisson Schmerglatt,Robert - 7.30
5. Pommery - Raili,Nicole - 7.10
6. Whisper - Ritzel,Ramona - 7.00
7. Lionel - Gottmer,Nars - 6.90
7. De Luxe - Werndl,Benjamin - 6.90
9. Chico's Everlasting Dream - John,Andrea - 6.60
10. Sueno - Müller,Andreas - 6.50
Back to the 2010 Bundeschampionate index