2010 World Championships for Young Dressage Horses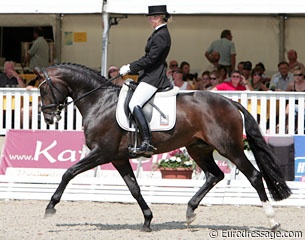 Three Norwegian combinations have been selected to represent Norway at the 2010 World Young Horse Championships in Verden, Germany, 4 - 8 August 2010, but the selection trial was not without incidents.
Norwegian owned horses had to compete in a selection trial held at the 2010 Nordic Baltic championships in Drammen this weekend. Three horses were selection but protest followed after the nomination of the winner of the 5-year old division, Tailormade Lancelot.
Norwegian Silje Bakken won the 5-year old qualifier with the Denmark based 5-year old Oldenburg stallion Tailormade Lancelot. The grey stallion by Lordanos x Ginsberg, which is owned by the Norwegian property developer Stiansen, scored a very impressive 92,2% score and won the class in Drammen. He got 9.5 for trot and canter, 8.8 for walk and suppleness and 9.5 for general impression.
Protest followed after Lancelot's nomination as the horse is a German bred colt owned by the Danish registered company Tailormade. The minimum requirement to represent Norway is that the horse has a Norwegian rider and is partly Norwegian owned. The Norwegian Equestrian Federation announced that it will look into the matter. 
As Lancelot dropped out, Trude Hestengen and the Norwegian warmblood stallion Tobajo Pik Disney (by Tobajo Picez x Walt Disney) are provisionally replacing him as Norwegian representatives.
The second qualified combination is Roger Frøyland and the Norwegian warmblood Myrstads Armani. The 5-year old liver chestnut by Armano x Don Schufro x Casanova is bred by Dagfinn and Silvia Førde and scored 8.2 for trot, 7.8 for walk, 8.8 for canter, 8.2 for suppleness and throughness and 8.5 for general impression. He totaled 83.0%. 
The third definite pair that is going to Verden is Isabel Bache on the Hanoverian licensed stallion Bergerac (by Belissimo M x De Niro). The bay stallion is owned by Kristen Andresen and Frank Piste and already competed at the 2009 World Young Horse Championships but then for Germany.  In Drammen, Bergerac scored 79,2% with 7 for trot, 8.3 for walk, 8.5 for canter, 8 for suppleness and 7.8 for general impression. 
Photo © Astrid Appels
Back to the 2010 World Young Horse Championship index