2010 World Championships for Young Dressage Horses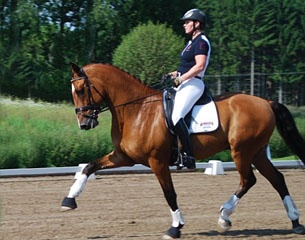 Five combinations travelled to Ericsberg, Sweden, for the third and last training seminar for long listed Swedish pairs that aim to represent Sweden at the 2010 World Championships for Young Dressage Horses in Verden, Germany, 4 - 8 August 2010.
Five duos, of which three were 6-year olds and two 5-year olds, gathered on 30 June 2010 to ride in sunny weather in front of selectors Bo Jena and Jan-Ove Olsson. The 6-year old Crissfire S (by Cosmopolite x Landlord) under Marika Martinsson, Darcia (by Danone x Don Schufro) under Jeanna Högberg and Emma (by Emmerton x Maraton) under Mikaela Alderin Danielsson are familiar from competing for several years in the Swedish young horse trials. 
Five-year olds Manchester (by Weltman x Midt West Ibi Light) under Jennie Larsson and Rackham the Red (by Rubinrot x Chapman) under Marika Martinsson are newcomers to the limelight. 
"We have seen enough high quality horses," selector Olsson told Tidningen Ridsport. "Riders and horseowners know how high the barr is raised when it comes to what is needed for WCYH. It is not the same pressure to qualify the young horses for Falsterbo, if they are not ready you wait today, indeed a very positive change for the better."
The Swedish selectors will pick the definite Swedish combinations after the final selection trial in Falsterbo, Sweden, 9 - 11 July 2010. 
Source: Tidningen Ridsport
Photo © Maria Holmquist
Back to the 2010 WCYH index