2010 Bundeschampionate Qualifier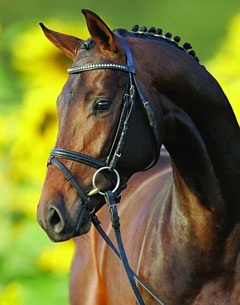 In tropical temperatures Luciano Nero and Bravissimo won the Bundeschampionate qualification classes at the selection trial at Silverthof in Oer-Erkenschwick, Germany, on 25 - 27 June 2010.
It was the 10-year anniversary of the regional competition at Silverthof and the event hosted several FEI level classes as well. Helen Langehanenberg made her show debut aboard Damon Hill scoring 68% and spectators were also able to watch Germany win the soccer match against England on a big screen.
The 5-year old division was won by Carsten Peeters aboard the Rhinelander bred Luciano Nero (by Lord Loxley x Polydor). The combination scored 8.40 and beat fourteen fellow competitors. Marlene Thiel and Fayenne settled for second place with 8.20. Two combinations tied on third place with an 8.0 score: Lina Claren on Frankie Boy (by Furst Heinrich x D'Accord) and Stefanie Wolf on Arietta (by Abanos x Lancer II).
Four horses in the 6-year old division earned a ticket for Warendorf. The winner of the class was Wibke Stommel aboard Eugene Reesink's licensed stallion Bravissimo (by Belissimo x Lord Sinclair), who scored 8.7 and placed at the top far ahead of her rivals. Young rider Fabienne Lutkemeier became the runner up on Sole Mio with 8.3. Helen Langehanenberg and the Oldenburg Rohjuwel (by Rohdiamant x Castro) slotted in third with 8.2, while Katrin Bettenworth and Look at Me L (by Lord Loxley x Lancer II) were fourth with 8.1.
Results
5-year old Dressage Horses
1. Luciano Nero - Carsten Peeters - 8.40
2. Fayenne - Marlene Thiel - 8.20
3. Frankie Boy ZC - Lina Claren - 8.00
3. Arietta - Stefanie Wolf - 8.00
5. Rayman - Stefanie Kerner - 7.60
5. Freddie Mac - Ann-Christin Wienkamp - 7.60
7. Show - Master - Stefanie Kerner -7.50
7. Ehrgeiz - Andrea Ulmker - 7.50
9. Dante - Insa Hansen - 7.30
9. Lanya - Ursula Kufner - 7.30
9. Romberg - Frank Mohr - 7.30
12. Femme Jolie - Alexandra Ebertfründ - 7.20
12. Sir White Foot - Ariane Dierkes - 7.20
14. Sternenfänger OLD - Sebastian Langehanenberg - 7.10
14. Maxifun - Verena Burger - 7.10
6-year old Dressage Horses
1. Bravissimo - Wibke Hartmann-Stommel - 8.70
2. Sole Mio - Fabienne Lütkemeier - 8.30
3. Rohjuwel - Helen Langehanenberg - 8.20
4. Look at me L - Katrin Bettenworth - 8.10
5. Dresden Mann - Ingrid Klimke - 7.70
6. Lollipop - Christoph Koschel - 7.50
7. Don Enrico v.B. - Insa Hansen - 7.40
7. Donausturm - Nicole Glaser-Käppeler - 7.40
9. Beaufort - Gabriele Rund-Köllner - 7.30
Back to the 2010 Bundeschampionate index