2010 World Championships for Young Dressage Horses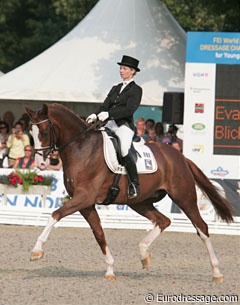 It was a long day for German selectors Jonny Hilberath, Christoph Hess and Holger Schmezer. The trio had too look at more than eighty 5 and 6-year olds at the one and only, Warendorf based German selection trial for the 2010 World Young Horse Championships in Verden, Germany, 4 - 8 August 2010.
The triumvirate has decided which combinations will represent the German breed societies in Verden. 
The selected 5-year olds are:
Florestine, Rhinelander mare by Florestan I - Rohdiamant (Breeder: ZG W. und B. Ameln, Rider: Holga Finken)
Henglein's Licosto, Westfalian stallion by Licotus - Rosenkavalier (Breeder: Alfons Baumann, Rider: Steffen Frahm)
Lissaro van de Helle, Hanoverian stallion by  Lissabon - Matcho AA (Breeder: Jürgen Dittmer, Rider: Claudia Rüscher) 
Sarkozy, Hanoverian stallion by Sandro Hit, Mutter von Weltmeyer (Breeder: Arno Mester, Rider: Eva Möller )
Schumacher, Westfalian stallion by Stedinger - Weltmeyer (Breeder: Wilhelm Lambardt, Rider: Claudia Rüscher)
Wasabi, Oldenburger  gelding by  Welt Hit IV - Lancer I (Breeder: Hans Radloff, Rider: Victoria Michalke)
Weihegold OLD, Oldenburger mare by  Don Schufro - Sandro Hit (Breeder: Inge Bastian,  Rider: Kira Wulferding)

1. Reserve: Sir Rubin, Oldenburger stallion by Sir Donnerhall I - Rubinstein I (Breeder: Marion Menck, Rider: Dorothee Schneider)
2. Reserve: Damon Jerome H, Rhinelander stallion by Damon Hill - Guy Laroche (Breeder: Willi Schneider, Rider: Uta Gräf 
3. Reserve: Horatio, Hanoverian  gelding by Hochadel - Matcho AA (Breeder: Susanne Buroch, Rider: Dorothee Schneider)
The selected 6-year olds:
Blickpunkt, Westfalian  gelding by  Belissimo M - Weltmeyer (Breeder: Heribert Westhoff, Rider: Eva Möller)
Dresden Mann, Westfalian stallion by Dresemann - Florestan I (Breeder: Hubert Vornholt, Rider: Ingrid Klimke)
Du Soleil, Hanoverian  gelding by De Niro - Caprimond (Breeder: Sven Kahrens, Rider: Saskia Lieben-Seutter)
Eloy, Hanoverian stallion by Earl - Wendenburg (Breeder: Johann Fuseler, Rider: Christin Schütte)
Redford, Hanoverian  gelding by  Rosentau - Escudo I (Breeder: Gisela Franke, Rider: Jessica Werndl)
Soliere, Hanoverian stallion by Sandro Hit - Donnerhall (Breeder: Sandra Neff, Rider: Eva Möller)
Watulele, Hanoverian gelding by Wolkenstein II - Frappant (Breeder: Richard Brümmer, Rider: Esther Maruhn)

1. Reserve: Wellendorff, Hanoverian gelding by Weltmeyer - Shogun xx (Breeder: Eberhard Hennings, Rider: Julia von Platen-Elmerhaus)
2. Reserve: Agnone, Rhinelander stallion by  Abanos - Dream of Heidelberg I (Breeder: Roberto del Bianco, Rider: Oliver Oelrich)
3. Reserve: Waterkant, Hanoverian stallion by Wolkenstein -  Matcho AA (Breeder: Wilhelm Tamm, Rider: Jessica Werndl)
Check out the list of all participating horses in the German selection trial
Photo © Astrid Appels
Back to the 2010 WCYH Index