2010 Imperial Riding Cup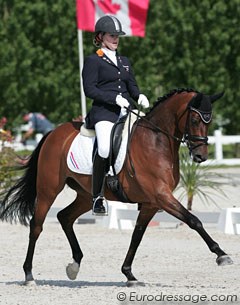 Fourteen-year old Dana van Lierop has won the 2010 Imperial Riding Cup, a show circuit for Dutch FEI Pony riders. The ambitious Dana has been on a roll with her ponies these past two months, winning international shows, Dutch selection trials for the European Pony Championships and beating reigning European Champion Antoinette te Riele. Today, Van Lierop added yet another victory to her list of achievements.
Aboard the bay Thuringian bred Equestricons Lord Champion (by Le Champion), Van Lierop finished second in the first round (70,83%) and Kur to Music finals (73,25%) totalling the highest average score (72,40%) of all finalists and earning the highest amount of competition points in this year's Imperial Riding Cup show circuit.
"It went really well," said the sympathetic Van Lierop. "In the team test I had a few small mistakes but the kur went well. Now I can focus myself completely on the European Championships. I won't ride anymore competitions until then and I'll be practising in peace at home. There's always room for improvement."
After six selection shows throughout the season, eleven pony riders qualified for the finals held in Almelo, The Netherlands, 25 - 27 June 2010. Antoinette te Riele and her second FEI pony Dynasty, a 6-year old German Reitpoiny mare by Deinhard B, placed second overall with 79 competition points. In the Finals, they were third in the team test (69,07%) and won the Kur (74,50%). They also finished second in the day ranking of the finals with an average finals' score of 71,79%.
The third place in the day ranking went to Suzanne van de Ven on the young liver chestnut Majos Cannon (by Marchi). Their average score was 70,95% after they had won the team championship test (72,41%) and were fifth in the kur to music (69,50%).
Photo © Astrid Appels - No Reproduction without permission
Results
2010 Imperial Riding Cup - Round 1 - Team Championship Test
1. Suzanne van de Ven - Majos Cannon - 72,41%
2. Dana van Lierop - Equestricons Lord Champion - 70,83%
3. Antoinette te Riele - Dynasty - 69,07%
4. Justine Mudde - Wonderboy - 68,52%
5. Michelle de Jonge - Hagelkruis Valentijn - 67,50%
6. Maria van den Dungen - Rembrandt DDH - 67,13%
7. Chiara Prijs - Mastwood Blackberry - 66,67 %
8. Christien Kerbert - Cinderella du Bois - 66,20%
9. Laila Smits - Oosteind's Rocco - 65,93%
10. Romy Bemelmans - Vinkenhove Lester - 65,65%
11. Rachell Fokker - Orchard Boginov - 63,89%
2010 Imperial Riding Cup - Round 2 - Kur to Music
1. Antoinette te Riele - Dynasty - 74,50%
2. Dana van Lierop - Equestricons Lord Champion - 73,25%
3. Maria van den Dungen - Rembrandt DDH - 72,33%
4. Justine Mudde - Wonderboy - 71,33%
5. Suzanne van de Ven - Majos Cannon- 69,50%
6. Michelle de Jonge - Hagelkruis Valentijn - 67,83%
2010 Imperial Riding Cup - Ranking for the Finals
1. Dana van Lierop - Equestricons Lord Champion - average: 72,40%
2. Antoinette te Riele - Dynasty - 71,79%
3. Suzanne van de Ven - Majos Cannon - 70,95%
4. Justine Mudde - Wonderboy - 69,92%
5. Maria van den Dungen - Rembrandt DDH - 69,73%
6. Michelle de Jonge - Hagelkruis Valentijn - 67,67%
2010 Imperial Riding Cup - FINAL RANKING
1. Dana van Lierop - Equestricons Lord Champion - 100 points
2. Antoinette te Riele - Dynasty - 79 pts
3. Maria van den Dungen - Rembrandt DDH - 78 pts
Related Links
Van Lierop Wins Final 2010 Imperial Riding Cup Trial in Ermelo
Van Lierop Takes Tally to Two in 2010 Imperial Riding Cup Circuit
Van Lierop Back in the Winner's Circle at Imperial Cup Qualifier in Assen
Te Riele One and Two at the 2010 Imperial Riding Cup Qualifier in Uden
Dynasty Makes Regal FEI Show Debut in Emmeloord 
Te Riele Wins First Qualifier of 2010 Imperial Riding Cup in Weert