2010 Bundeschampionate Qualifier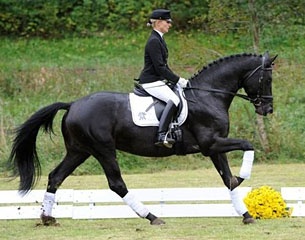 Kronprinz and Lobenswert were the winners of the L and M-level dressage horse test in Heidenheim 11 - 13 June 2010. The two classes served as a selection show for the Bundeschampionate but no horses were able to achieve the selection criterium.
Irina Oberthur and the Marbach State Stud owned Trakehner stallion Kronprinz (by Hohenstein x Sixtus) aced the 5-year old division with their 7.9 total score. They beat Ina Katrin Schmid on Quip B, a Bavarian branded Que Sera offspring., with 7.8.
Christine Boos and her grey Westfalian gelding Lobenswert (by Lissabon x Athlet Z) dominated the 6-year old division. The pair achieved a 7.8 and referred Jörg Schrödter on Davino (by Davignon II) to a second place. Robert Harrisson Schmerglatt and the Hanoverian Fonteyne (by Furst Heinrich) placed third with 7.6.
"The show ring was very difficult in Heidenheim," Christine Boos explained. "My horse was quite stressed. We just need a bit more quiet around us," she commented.
Results
5-year old Dressage Horses
1. Kronprinz - Oberthür, Irina - 7.9
2 Quip B. - Schmid, Ina-Katrin - 7.8
2 Birkhof's Sirtaki - Stankus, Falk - 7.8
4 Merlin - Kiess, Stephanie - 7.5
5 She's a Lady - Eisenmann, Julia - 7.3
6 Shanuk P - Oberthür, Irina - 7.2
7 Lord Falo S - Siegle, Maria - 6.9
7 Stand up - Zeiske, Susanne - 6.9
9 Caspar - Kiess, Stephanie - 6.8
6-year old Dressage Horses
1. Lobenswert - Boos, Christina - 7.8
2 Davino - Schrödter, Jörg - 7.7
3 Fonteyne - Harrisson Schmerglatt, Robert - 7.6
3 Friedemann - Lang, Meike - 7.6
5 Soraja - Schrödter, Sabina - 7.5
6 Birkhof's Touch me - Stankus, Falk - 7.4
7 Et Moi - Heß-Müller, Karin - 7.3
8 Dolce Far Niente - Lang, Meike - 7.2
8 Remember It - Rohrmuß, Heike - . 7.2
10 Fogey Franclin - Gauß, Natalie - 7.1
11 Rompicolo - Reinbott, Ralf - 6.6
Back to the 2010 Bundeschampionate index