2010 CDI Blainville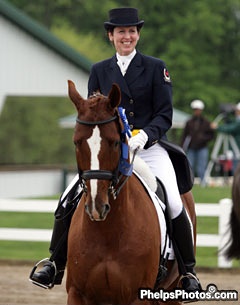 Dressage at Blainville CDI3* is set for next weekend, June 18-20, 2010 and is shaping up to be a hotly contested competition. Show organizer Linda Pepin reports that they have 67 entries in the CDI3*, and 175 entries in the corresponding Gold competition.
  Not only are Canadian Grand Prix riders chasing their WEG-team dreams, once again American riders are making the trip north to earn their scores, giving the Canadians a "run for their money".
The competition takes place at Parc Equestre de Blainville, where it has been held since its inception 12 years ago. While it has undergone several changes in show management over the years, it has been long been considered a staple on the Canadian dressage circuit, as it follows Cornerstone's Spring into Dressage, and gives riders the chance to compete in two major events within the same month.  
Grand Prix riders entered and vying for WEG-team spots are: Olympian Jacqueline Brooks; 2007 Pan American Team Silver medalist Diane Creech; World Cup finalist Gary Vander Ploeg; 1999 Pan American team member Simone Williams; 1995 Pan American Team and Individual Bronze medalist Victoria Winter; Ute Busse; Denielle Gallagher-LeGriffon; and Jaimey Irwin.
Judges for the CDI3* include Stephen Clarke, FEI ''O'' (GBR) ; Elizabeth McMullen, FEI ''O'' (CAN); ) Marianne Cunningham, FEI ''I'' (PER); Lisette Vega De  Purcell, FEI ''I'' (DOM) Jane Weatherwax, FEI ''I'' (USA); Charlotte Bredahl, FEI ''C'' (USA); Brenda Minor, FEI ''C''  (CAN).
Following Blainville, the final Canadian CDI3* where WEG-declared riders can earn their scores will take place at the Edmonton Gold Rush CDI3*, July 15 - 19, 2010, in Edmonton, AB.
Riders currently qualified for the World Equestrian Games are outlined below:
| | | |
| --- | --- | --- |
| Rider | Horse | Score Average  |
| Ashley Holzer | Pop Art   | 72.329% |
| Belinda Trussell | Anton  | 69.596% |
| Victoria Winter | Proton  | 66.543% |
| Cheryl Meisner | Paganini | 66.500% |
| Shannon Dueck     | Ayscha  | 66.447% |
| Wendy Christoff | Pfalstaff   | 66.377% |
Photo © Mary Phelps - www.phelpsphotos.com
Back to the 2010 WEG Index