2010 Bundeschampionate Qualifier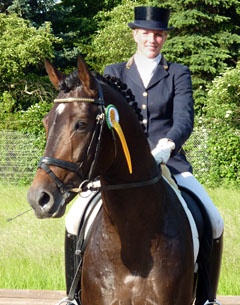 Wilson Pickett and For Compliment won the Bundeschampionate qualification classes at the regional show in Wolfsburg 11 - 13 June 2010.
Ester Maruhn won the 5-year old division aboard Helga Keller's Hanoverian gelding Wilson Pickett. The Wolkentanz I x Ravallo offspring scored a total of 8.20 to best a field of eleven competitors in total. Jan Dirk Giesselmann and the Hanoverian branded Leonardo (by Londonderry x Buenos Aires) had an overall score of 8.0 to finish second. The bay gelding did receive a 9.0 for his trot from the panel of judges.
The 6-year old division was won by PSI auction horse For Compliment. Bred by I-judge Peter Engel and owned by Sandbrink Riding centre the licensed Rhinelander stallion (by Fidermark x Compliment) was presented by Anna Sophie Fiebelkorn and totalled 8.3. He got a 9.5 for trot and 9.0 for canter, but a 7 for walk and 7.5 for suppleness/rideability. Esther Maruhn and Don Malecon (by Don Frederico x Weltmeyer) ranked just behind them with 8.2. Julia Katharina Elmerhaus and Wellendorff (by Weltmeyer x Shogun xx) slotted in third with 8.10 and were followed in the ranking by Sandra Frieling on Australian judge Ricky MacMillan's Diamond Dreamer O (by Dimaggio x Silvano) with 8.0.
Results
5-year old Dressage Horses
1. Wilson Pickett - Maruhn,Esther - 8.20
2. Leonardo - Gießelmann,Jan-Dirk - 8.00
3. Daikiko - Pohlmeier,Anne-Kathrin - 7.70
4. Rihanna - Frieling,Sandra - 7.60
5. Dewi - Kammer,Uta zur - 7.40
6. Rembrandt ws - Platen-Elmerhaus,Julia-Katharina - 7.10
7. Dragonheart - Gießelmann,Jan-Dirk - 6.90
7. San Marlo - Aue,Christian - 6.90
9. Sidney - Platen,Ute von - 6.50
10. Sir Valentin - Schulze,Alexandra- 6.40
11. Rosentänzer - Lange,Katharina - 5.80
6-year old Dressage Horses
1. For Compliment - Fiebelkorn,Anna-Sophie - 8.30
2. Don Malecon - Maruhn,Esther - 8.20
3. Wellendorff - Platen-Elmerhaus,Julia-Katharina - 8.10
4. Diamond Dreamer O - Frieling,Sandra - 8.00
5. Lionheart - Simon,Anke - 7.70
6. Elista - Palmer-Kraul,Daisy - 7.60
7. Lizitant - Klaus,Hans-Peter - 7.50
7. Donnelly - Osterkamp,Heike - 7.50
9. Redmond - Wilkens,Antje-Kim - 7.30
10. Ayers Rock - Simon,Anke - 7.10
11. Jack London - Platen-Elmerhaus,Julia-Katharina - 6.90
12. Lex Lennard - Wandres,Frederic - 6.80
13. Dark Site - Hecker,Andre - 6.70
14. Dave Dudley - Oppermann,Claas - 5.50
Back to the 2010 BuCha Index