2010 CDI Cannes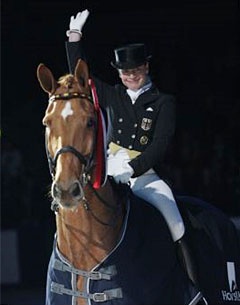 German Isabell a Werth had a busy schedule this weekend, cityhopping from Germany to Cannes, back to Germany for a national show, and back to Cannes to win the €60,000 Grand Prix Freestyle at the World Dressage Masters. Werth rode Warum Nicht FRH to their first victory as a pair in more than a year and since returning to competition after a six-month break to give birth to a son.
Isabell, competing in her third straight €100,000 World Dressage Masters CDI5*, scored 77.950 per cent with Belgium's Stefan van Ingelgem and Withney van't Genthof in second place on 70.90 per cent and Poland's Michael Rapcewicz on Randon third on 69.20 per cent.
She was smiling happily at the end of the ride on the 14-year-old Hanoverian gelding on whom she won the World Cup Final in 2007, although she did not get to give her final salute until about midnight as the freestyle did not start until completion of the Global Champions Tour jumping Grand Prix in this French Riviera resort.
Similar to the Grand Prix when Warum Nicht was distracted by flowers around the arena blowing in the wind, but a cable that he wanted to check out.
"That's why his changes of leg seemed a little out of order at times," Isabell said. "But I am absolutely satisfied of this first appearance in Cannes despite some little imperfections. Either way I adore Cannes. I enjoyed it so much that I think I might almost count these days as my holiday!"
The finishes here automatically puts here at the top of the €25,000 WDM Rider Award leaderboard sponsored by Nürnburger Versicherungsgruppe that goes to the combination with the most points won at Cannes, Falsterbo, Sweden, and Hickstead, England in 2010 and Palm Beach, USA, and Munich, Germany in 2011.
Isabell won the €10,000  Grand Prix Thursday setting the stage for victory in the freestyle after finishing third in the two previous World Dressage Masters events so far this year, at Palm Beach in February and Munich in May. Until Cannes, she had not won on the horse she calls "Hannes" and owned by Madeleine Winter-Schulze since Wiesbaden, Germany, in May, 2009.
Other scores in the Grand Prix Freestyle were Daniel Pinto of Portugal and Galopin de la Font 66.90 per cent, Jeroen and Devroe of Belgium and Apollo van het Vijverhof 64.20 per cent, Rogerio Clementino da Silva of Brazil and Portugal 64.15 per cent and Luiza Novaes Tavares de Almeida  and Samba with 64.00 per cent. Luiza on Samba was the youngest ever dressage rider to compete at an Olympics, aged 16 at the 2008 Beijing Games.
Cannes was the launching pad in 2008 for the world's richest lineup of dressage competitions that has grown to five premier CDI5* competitions this year, each one with prize money of €100,000. Falsterbo, Sweden, has been added to the calendar this year and is followed by the 2010 finale at Hickstead, England.
Related Links
Scores 2010 CDI Cannes
Werth and Warum Nicht Win WDM Grand Prix at the 2010 CDI Cannes 
Valentina Truppa and Eremo del Castegno Win WDM Grand Prix Special at 2010 CDI Cannes