2010 World Championships for Young Dressage Horses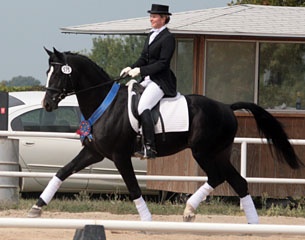 College student Emily Wagner and her American bred 5-year old Wakeup will be the sole combination representing the United States at the 2010 World Young Horse Championships held in Verden, Germany, August 5 - 8, 2010. Two U.S. horses qualified for Verden but the 6-year old combination, Elizabeth Ball and Selten HW, opted not to make the journey to Europe.
The American Young Horse Dressage Selection Trials concluded the 2010 qualifying season with competitions held across the country in Illinois, California and Virginia to select the U.S. representatives for the World Champions. In order to qualify for the U.S. Young Horse Dressage Short List, horses must have earned an overall score of 8.2 or better at one of the Markel/USEF Young Horse Dressage Selection Trials or via international competitions. Qualifying for this year's Short List is WakeUp and Emily Wagner (LaCygne, Kansas) (5-year-old) from the Central Selection Trial, and Selten HW and Elizabeth Ball (six-year-old) from the Western Selection Trial.
Elizabeth Ball from Carlsbad, CA, announced that she will not travel to the World Championships but instead aim for a hattrick at the 2010 U.S. Young Horse Championships held in Wayne, ILL, in July. Her Sandro Hit offspring Selten HW already captured the national young horse champion's title as a 4 and 5-year old and the rider aims to add a third consecutive title to that list of achievements. 
Twenty-two year old Wagner and Wakeup will be realizing their dream and are heading to Germany in the summer. The pair have been a team from the very onset. Wakeup's sire is Wagnis, which was purchased in Germany by Emily's mom, Jana, at the ripe old age of 1. In 2004, Beverly McLean of Missouri decided to breed her mare Maiden Montreal to Wagnis. Fully supportive of this match, Jana Wagner asked for a first right of refusal should Beverly ever want to sell this foal. So… in 2005 along came Wakeup and at 3 weeks old, Jana went to look at him. Emily went along with the full intention of preventing her mother from buying another horse! Fortunately, Emily didn't hold up her side and very quickly Wakeup became a part of the family at Wally Woo Farm where Emily has guided his training and development.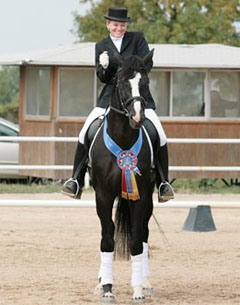 Wakeup was very successful as a 4 year old but has really blossomed in his fifth year. He received an 8.3 at the Kansas City Dressage Society March Show, which qualified him for the selection trials. The selection trials were held in Wayne, Illinois at the Lamplight Equestrian Center. This was the first of the selection trials and no one had ever qualified from a Midwest selection trial before. With an 8.04 in the preliminary test and an 8.36 in the final test, WakeUp and Emily received the over 8.2 average needed and were officially named to the long list for the World Championships. After the east and west coast selection trials resulted in no other 5 YO horses achieving the 8.2, Wakeup was officially on the short list and invited to Germany! 
Lloyd Landkamer, USDF Region 4 director, wrote that the trip to Europe will be a very expensive one. "Emily and Wakeup would love to continue this fairy tale of a young dressage rider and young horse from a modest Midwest background making it to the pinnacle of dressage for Young Horses. They represent the future! Not only would Emily and Wakeup gain invaluable experience and knowledge and represent American and Midwest breeding, but they would also bring it back to the area and create growth for dressage in the heart of the U.S. However, they need help. The trip over is expected to cost around $30,000. This includes the flight for Emily, Jana and WakeUp, board and training while in Germany, show fees, quarantine costs, transport to and from show grounds among other things. In the past, the USEF has chipped in for a large portion of the costs. However, due to budget cuts and a poor economy, they will not help at all this year. Please do not let money hold them back after they have come so far! Here is how you can help!!!!"

To be a part of this exciting journey, join Emily and High Performance Equine for a silent auction and wine dinner at Piropos in Parkville, MO on June 28, 2010. Tickets are $125. Make your reservation at http://www.hpequine.com/sponsorships.html but hurry as space is limited!!Donate an item to the June 28th Silent Auction. Contact Maggie Stonecipher at (913) 908-6992 or stoneymeadow@earthlink.com to donate an item.Make a monetary donation to support Emily's journey. Donations can be made at http://www.hpequine.com/sponsorships.html 
Back to the 2010 WCYH index