2010 Bundeschampionate Qualifier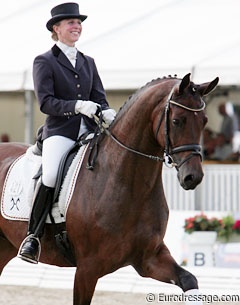 Henglein's Licosto and Ferrero wielded the axe of power at the 2010 Bundeschampionate qualifier in Prussendorf on 4 - 6 June 2010.
Steffen Frahm and the Westfalian branded Licosto (by Licotus x Rosenkavalier x Apart) won the 5-year old dressage horse test with an 8.2 score. The liver chestnut stallion Licosto is owned by Hans Henglein and was licensed for the Westfalian verband in 2009. The combination beat Ronald Luders's aboard Kempke Hof's Repertoire, an Oldenburg bred Royal Olymp offspring. This duo received 8.0 from the panel of judges.
In the 6-year old division Yvonne Reiser and the Hanoverian bred Ferrero (by Florestan) won the trophy and an 8.2 earning ride. The pair, which represented Germany at the 2009 World Young Horse Championships in Verden, spearheaded the class and were followed by Roland Volkmann on Lewitz, a Mecklenburger bred Lord Sinclair III get, with 8.0.
Photo © Astrid Appels
Results
5-year old Dressage Horses
1 Henglein's Licosto- Frahm, Steffen - 8.20
2 Repertoire - Lüders, Ronald - 8.00
3 Rihanna - Frieling, Sandra - r 7.80
4 Hohensteyn - Görtz, Doris - 7.60
5 Rio Akzento - Singh, Anika- 7.50
5 Heidemärchen - Voigtländer, Julia - 7.50
7 Dozent - Thieme, Michael - 7.40
8 Angelina - Singh, Anika - 7.00
8 Rainbow Quest - Vrachoritis, Alexis - 7.00
10 Perlentaucher - Peckholz, Mareike - 6.90
11 Stratege - Schneider, Matthias - 6.80
12 His Lordliness - Munz, Patricia - 6.70
13 Editorial - Peckholz, Mareike - 6.10
14 Rea Garvey - Kauert, Christof - 6.00
Rastelli - Borkowsky, Diana - DNS
Saladin - Rahn Dr., Antje - DNS
6-year old Dressage Horses
1 Ferrero - Reiser, Yvonne - 8.20
2 Lewitz - Volkmann, Roland - . 8.00
3 Count Up - Thieme, Michael - 7.60
4 First Dance - Frahm, Steffen - 7.50
4 Diamond Dreamer O - Frieling, Sandra - r 7.50
6 For Compliment - Sandbrink, Stefan - 7.40
7 Dawinschy - Haupt, Alexandra - . 6.90
8 Sambalina - Barthel, Leona - 6.70
8 Laurenz - Krug, Luise - 6.70
Back to the 2010 Bundeschampionate index