2010 Bundeschampionate Qualifier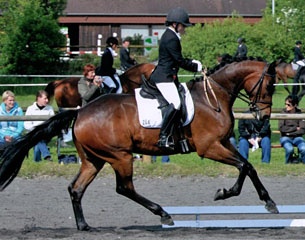 Livingston and Dolce Far Niente pushed for power at the Bundeschampionate qualifier in Ansbach, Germany, 4 - 6 June 2010, and moved themselves into the winner's circle.
Benjamin Werndl of the Aubenhausen dressage centre won the 5-year old division with Livingston. The chestnut gelding by Londonderry x Weltmeyer x Werther received 8.2 from the panel of judges and topped the leader board. Franziska Stieglmaier and the Bavarian bred Lukas (by Lagiator) finished second with 8.1. Two more 5-year olds obtained their qualification score for Warendorf: Carmen (by Florencio) and Pagalli (by Pasolongo).
Meike Lang and the Westfalian bred Dolce Far Niente (by Damon Hill x Brentano II) won the 6-year old division with 7.6. She beat Benjamin Werndl who got 7.5 for his ride on De Luxe (by Don Cavallo).
Results
5-year old Dressage Horses
1. Livingston - Werndl, Benjamin - 8.2
2. Lukas - Stieglmaier, Franziska - 8.1
2. Carmen - Kronaus, Kerstin - 8.1
4. Pagalli - Wadenspanner, Walter - 8.0
5. Herbstzauber - Haag, Jessica - 7.4
6. La Fiona - Mehringer, Sophia - 7.3
7. Herzenslust - Meschke, Dennis - 7.1
8. Fürst Franky Boy - Hümmer-Frank, Stephanie - 6.9
9. Symphonie - Wehr, Thomas - 6.6
10. Kismaju - Roßkopf, Sarah - 6.4
11. Faramir - Rettinger, Carmen - 6.1
12 Senorita Bavaria - Zinnecker, Olaf - 6.0
Marcella - Theurer, Heike - DNS
6-year old Dressage Horses
1. Dolce Far Niente - Hill Lang, Meike - 7.6
2. De Luxe - Werndl, Benjamin - 7.5
3. Friedemann - Lang, Meike - 7.3
3. Eliot - Sessler, Alexandra- 7.3
5. Pommery - Raili, Nicole - 7.2
5. Riverman - Schulkowsky, Ursula - . 7.2
7. Fonteyne - Harrisson Schmerglatt, Robert - 7.0
7. Djamihla - Rakelbusch, Gerdi - 7.0
9. Amiro - Moll, Simone - 6.9
9. Arcontino - Zinnecker, Cornelia - . 6.9
11. Friedensritter - Horler, Sebastian - . 6.8
12. Who's Sweet Lady - Pelk, Christina - 6.2
Donna Diara - Meschke, Dennis - RET/DNS
Back to the 2010 Bundeschampionate Index