2010 Bundeschampionate Qualifier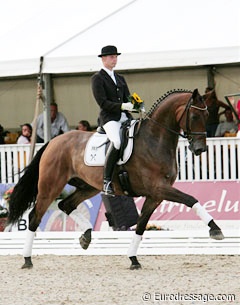 Florestine and Real Dancer became the winners of the Bundeschampionate Qualifier hosted at the Anakenenhof in Pinneberg near Hamburg, 2 June 2010. 
In the 5-year old division Holga Finken rode Frank Dahlhoff's Florestine (by Florestan x Rohdiamant x Castro x Argentinus) to an 8.30 winning score. The bay mare was the 2009 reserve Bundeschampion and previously competed by Christine Nolden. She is the full sister to Sissy Max-Theurer's Bundeschampion Furst Khevenhuller. Celle State Stud rider Wolfhard Witte finished second on the Hanoverian licensed stallion Hohenzollern (by Hochadel x Weltmeyer) with 8.2.
Jan Dirk Giesselmann and the bay Hanoverian Real Dancer (by Rubin Royal x De Niro) won the 6-year old dressage horse test. The combination competed at the World Young Horse Championships in Verden last year and are now totally ready for the M-level tests. The duo received 8.40 from the judges. Norwegian Isabel Bache and the Hanoverian stallion Bergerac (by Belissimo M x De Niro x Larinero) slotted in second with 8.3
Results
5-year old Dressage Horses
1. Holga Finken - Florestine - 8.30
2. Wolfhard Witte - Hohenzollern - 8.20
3. Kornelia Kindermann - Karl Lagerfeld - 8.10
4. Sandra Frieling - Scalinger - 8.00
5. Hartwig Burfeind - Calimero M - 7.80
6. Esther Maruhn - Wilson Pickett - 7.70
6. Jan Lens - Chapot - 7.70
8. Sandra Frieling - Rihanna - 7.60
9. Jan-Dirk Gießelmann - Leonardo - 7.50
10. Anna-Sophie Fiebelkorn - Sonnenkönig - 7.50
10. Nadine Svenson - Leones - 7.50
12. Jan-Dirk Gießelmann - Dragonheart - 7.40
12. Falk Rosenbauer - Destino - 7.40
14. Nadine Plaster - Adios - 7.30
14. Anne-Kathrin Pohlmeier - Daikiko - 7.30
16. Clemens Graf von Merveldt - Floriscount - 7.10
16. Lena Stegemann - Harmony's Desiderio - 7.10
16. Antje Busch-Petersen - Liz la Belle - 7.10
16. Harald Cornelissen - Singolo - 7.10
20. Susanne Mohr - Linus LT - 7.00
20. Andreas Homuth - Pino del Rio - 7.00
6-year old Dressage Horses
1. Jan-Dirk Gießelmann - Real Dancer - 8.40
2. Isabel Bache - Bergerac - 8.30
3. Sandra Frieling - Diamond Dreamer - 7.80
4. Laura Yubero Prieto - Rialto Star - 7.70
4. Petra Wilm - Elfado - 7.70
6. Hartwig Burfeind - Diamonit II - 7.60
6. Anna-Sophie Fiebelkorn - For Compliment - 7.60
8. Hans-Peter Klaus - Lizitant - 7.50
9. Yvonne Reiser - Ferrero - 7.40
10. Steffen Frahm - First Dance - 7.30
11. Susanne Mohr - US - Beauty- 7.20
12. Manuel Bammel - Dame Maggio - 7.10
13. Natascha Teschke - Fürst for you - 6.90
13. Jan Lens - Anuk - 6.90
13. Daisy Palmer-Kraul - Elista - 6.90
16. Antje Busch-Petersen - Dancing Fire G- 6.80
16. Esther Maruhn - Don Malecon - 6.80
16. Nadine Plaster - Donaldik - 6.80
19. Stefanie Mehlhorn - Lutziano - 6.70
20. Markus Suchalla - De Chirico - 6.20
Back to the 2010 Bundeschampionate Index