2010 World Equestrian Games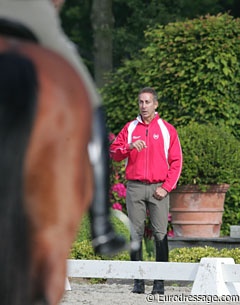 Everybody who is a little familiar with American Olympic and Canadian team coach Robert Dover knows that the 53-year old has tireless energy
 and incredible motivational skills to bring the best out of anyone. "Hi Astrid, we are starting a bit earlier because the van is going to pack and leave around noon and I have six to train," is the email message I find in my inbox at 6 AM. Have I told you I'm not really a morning person?
The five Canadian squad riders selected for the European tour have set up base camp at the Cordia family's amazing Jewel Court Stud in Belgium, so we couldn't pass up the opportunity to see them train in preparation of their Euro show-tour.
On Wednesday 2 June 2010 the Canadians were having their "dress rehearsal". I made an appointment with Robert to see them ride as of 8.30 am. In order to prevent rush hour traffic in Antwerp I left home at 6 AM and made it just on time to see Ashley Holzer and Pop Art warm up at 7.30 as announced by Robert in his early morning mail.
My GPS sent me straight to my destination. I've been to the Jewel Court Stud area in Antwerp quite often (there was the fabulous restaurant Withof just around the corner) but every single time you seem to discover different little paradises. The day before I left I checked out Jewel Court Stud online. It is the home of the world famous double Olympic show jumping mare Classic Touch (under Piet Raijmakers) and a show jumping oriented breeding facility which recently started to invest in dressage (good choice). The property is owned by the 70-year old ship-owning mogul Willem Cordia and his wife Marijke van der Laan. Their daughter Eliane lives in New York City and trains with Ashley Holzer.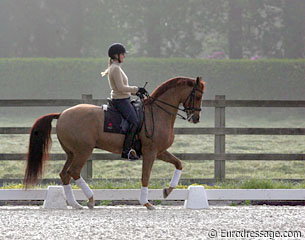 The drive-way with blooming azeleas leading up to a gate fence was a first taste of the stunning 45 hectare property that lay behind it. Just around the corner I bumped straight into the main house and on my left the dressage ring. Everything on the property is landscaped and it was simply breath taking with all the purple azeleas. The grass was still wet with morning dew and my sneakers were soaked within five minutes. Holzer had started her warm up and she was riding in the early morning mist.
Robert Dover has a voice that carries and his American accent immediately sounded warm, enthusiastic and embracing. Dover did four hours and a half of teaching and it felt like he was a motivational speaker for The Secret. "Visualize that I'm standing right near you," he advised Wendy Christoff in order to make her do small, on the spot pirouettes. He also often referred to "Russian Dancer" and kept repeating the two words to Wendy as she was doing a passage on Pfalstaff. The goal was to make her envisage and achieve a quick and active hind leg. It sounded funny with Robert repeating "Russian Dancer, Russian Dancer" continuously, but the message was certainly clear.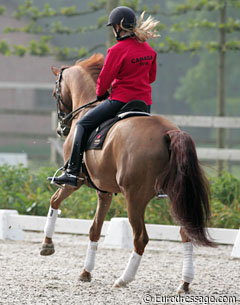 Holzer and her 13-year old Dutch warmblood Pop Art (by Amsterdam x Cabochon) are the anchors of the Canadian team with their experience. "He's so trained now it only takes a few days to prepare him for a show," Robert confirmed. Holzer schooled some collected canter work in preparation of a pirouette. She tried to make him canter more on the spot while getting him more upward in the shoulder. In the trot half passes the combination worked on creating more lift from the shoulder as well by aiming for an extended gait. It was refreshing to see Robert work vigorously with his student while also giving the horse plenty of walk breaks. Five to ten minutes of focused training was always followed by a pause in walk.
After a small thirty minutes, Holzer and "Poppy" were finishing their ride with a last bit of harmonious piaffe and passage. " I pick up the reins and now I have a horse," Holzer said during the session. Shannon Dueck and her 9-year old Oldenburg mare Ayscha (by Welt Hit II x Rouletto) entered the ring at that time and started some warm up in posting trot. The huge powerful mare Ayscha is the youngest of the clan but certainly one of the most talented.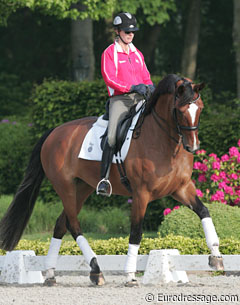 Though the mare still fidgets with her tongue and grinds her teeth in the more difficult movements, she shows enormous amounts of potential. The duo first practiced some trot half passes. Dover asked Shannon to sit more to the right and lift her right hand in the right half passes so that the mare would develop more cadence and bending.
Robert is quite repetitive in his praise. He reiterates "super mare, super mare, super mare" as Ayscha is doing one fabulous movement after the other. Often heard as well is "lovely, lovely, lovely." Dover is a pro at praising his students when they do the right thing and never seems to hark on the negative. Dueck and Ayscha practice on straightness in the tempi changes and on the centerline for the pirouettes. The pirouettes to the right are of same world class quality as Rusty used to do them. The ones to the left still need some improvement. In piaffe and passage the bay mare has astonishing power, rhythm and balance and these two movements are definitely going to be her high scoring points. They are executed with sweetness and elegance. "She's really starting to rise to the occasion at the shows," Dover stated. "She's looking much more powerful."
In between horses, Dover is chatting away and expression his pride of the group. "Belinda (Trussell) was absolutely faultless in Wiesbaden,"he said. "It was the best I have seen her go." These Canadian rising stars only scored 67% for a test which should have earned her a solid 70. "I wonder, 'what do judges want to see'," Dover asked me.
Bonny Bonnello of Calgary, AB, is the nestor of the squad. This double Olympian (1980 and 1984) surprised herself this year with her excellent scores in Florida aboard her dark bay gelding Pikardi (by Point Maker x Diamont). She was one of six who scored a high enough average to be invited to this European tour. Only Victoria Winter opted not to go as she is lawyer by profession and could not leave her practice.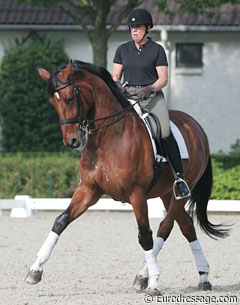 Dover asked Bonnello to ride a lot of transitions. "Five steps forward, then bring him back, five steps forward, then bring him back," he echoed. "You need to get him animated in such a way so you know he's there taking you." The pair also rode shoulders-in, "so you get suppleness in the outside rein." Robert is very eloquent in describing and visualising situations for the rider. "Think your horse in an orchestra that you are conducting." Bonnello had a few issues with the one tempi changes and her horse was getting stressed in the situation. Dover noticed that the rider got tense and recommended her to quit the exercise and do something totally different. "Train some piaffe to break the moment," he recommended.
At that time it was getting busy in the 20 x 60m outdoor school. Bonnello was working on the serious stuff, while Holzer had come in with Eliane Cordia's Oldenburg gelding Jewel's Sonnenstern (by Sandro Hit x Sion). The long legged bay gelding, bred by Maik Kanitzky, is trained at Prix St Georges level and will be competing in Lingen in the small tour. Shannon Dueck was letting Ayscha graze round the ring and Wendy Christoff was walking her 16-year old Hanoverian Pfalstaff before her lesson. I almost forgot to tell you that all Canadians wore helmets. Talk about setting an example!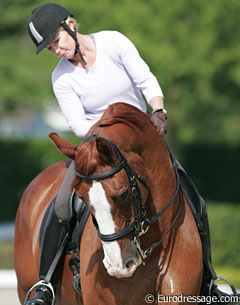 Christoff worked on bits of the Grand Prix Special, riding piaffe and passage on the exact same spot as in the test and practicing the passage - extended trot transitions. Though Pfalstaff is extremely regular in his passage, he was dragging his feet a bit at the beginning. "Think extended trot in the passage," Robert kept telling and one slowly saw the horse improve and become more active behind. At the end of her session, Wendy thanked Dover for his help. "It is such an amazing experience to be here," she said.
Dueck also told us that she is grateful and ecstatic to be part of this team. Shannon was a member of the Canadian team at the 2002 World Equestrian Games and 2003 Open European Championships but confided that now, for the first time, she feels that Canada actually has a team in the true sense of the word. "It is the first time we have a leader and it is just amazing," she said.
The final rider to train that morning was 2004 Canadian Olympic team rider Belinda Trussell with her 10-year old Saxonian bred Anton (by Anteus). The pair started with some walk exercises. "Sweeping strides so he stretches into the contact," Dover said. Then they started with some canter work in which Anton held his head and neck long, deep and low while maintaining a brisk stride, engaged from behind. The goal was to ride her freestyle to music, but the CD Belinda got sent from Canada was a draft version and useless. This would also alter her plans for Lingen as she probably will switch to the Special tour instead of the Kur tour with no music ready at hand. Instead Dover coached them through some Special movements, like he did with Christoff.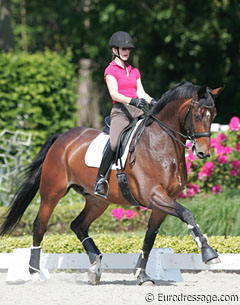 The opening music of Belinda's kur featured ethereal voices, which should support the passage, but Dover immediately told his opinion about it. "Music needs to be powerful to inspire the rider and the crowds need to think, "Here comes Belinda, look at them prance," Robert heralded. "Anton has an unbelievable temperament. He's an expensive horse; he's done like haute couture clothing with 27 fittings. When he gets to WEG I want the hairs on my arms to raise," said Robert.
Anton is one of the most talented Canadian team horses which has been consistently getting 70% at shows in Florida. Robert made it no secret that he aims to have at least three riders scoring round 70% at the World Equestrian Games and he wants them all to be at the top of the game.
"We are in the business of who beats who where," Dover concluded. "We have to do the European experience because I want my riders to go prepared to the World Equestrian Games and think it's just another show."
Text, photos & video © Astrid Appels for Eurodressage.com
Related Link
Eurodressage Coverage of the 2010 World Equestrian Games