2010 CDN Weert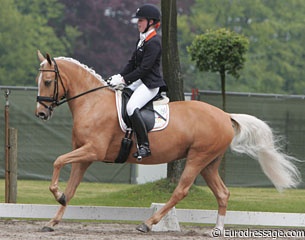 Antoinette te Riele rocked the Dutch pony team selection trial held at her own stable De Ijzeren Man in Weert, The Netherlands, on 7 - 9 May 2010. This year the competition in Weert downgraded from a well visited, popular international youth riders competition to a national show featuring pony, junior and young riders classes that counted as selection trial for the 2010 European Pony, Junior and Young Riders Championships. 
The pony team championship test was won by Te Riele on her 2009 European Pony Champion Golden Girl. The combination was on form and rode a fault-free test with well regulated trot work, a big walk extension and a balanced canter tour. Only the rein back was mediocre and the mare grinded her teeth in the collected walk. The combination scored a royal 78.79% mark to top the leader board. 
Te Riele also saddled her second FEI pony, the 6-year old mare Dynasty (by Deinhard B). The palomino is a bit long in the back and could have been built more uphill as she has a shorter front leg, but her self carriage is outstanding. Her cadence in trot is superb and she has lovely front leg usage in canter. Though the contact with the bit is light, the mare squeezes her mouth together and there is hardly any foaming, looking a bit sour at times. A small mistake in the simple change at X reduced the score to a strong 72.68% and a third place.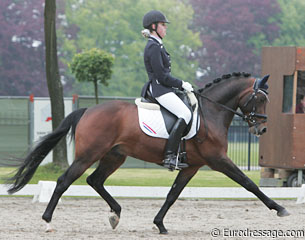 Up and coming combination Sanne Vos and her very experienced Just You 'n Me slotted in fourth with 69.722%. The pony has no particular highlights, but he excels with his stability and error-free execution of all the movements. This perfect schoolmaster was ideally presented by young Vos who remained quiet, relaxed and concentrated in the saddle. 
Michelle de Jonge and Hagelkruis Valentijn ranked fifth with 69.63%. This dark bay pony is the spitting image of Dutch team pony Equestricons Lord Champion and truly rose to the occasion in Weert. He has great hind leg usage in canter and shows wonderful extensions but he could have been a bit lighter in the hand and have more self carriage. 
Text and Photos © Astrid Appels
Related Link: Scores 2010 CDN Weert
Show Photography
Eurodressage photographer Astrid Appels was on the scene taking pictures of all PONY riders.
If you are interested in seeing your photos and ordering prints, send us an email mentioning the rider's or horse's name.