2010 Bundeschampionate Qualifier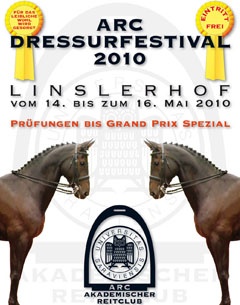 Luxembourg based Sascha Schulz achieved a double whammy at the 2010 Bundeschampionate qualifier at Linslerhof in Uberherm, Germany held on 14 - 16 May. He aced both dressage horse classes with Sacre Coeur and Furstengruss.
Schulz won the 5-year old division with the Hanoverian bred Sacre Coeur (by Sir Donnerhall x Pik Bube II), owned by Schulz in partnership with Christof Umbach. The horse was acquired by the duo at the Verden auction for 47,000 euro and now qualified for the Bundeschampionate with a winning score of 8.5.
The 6-year old dressage horse test was won by Schulz on the Oldenburg bred Furstengruss (by Furst Heinrich) with a 7.8 score. Thomas Schmitz and the Oldenburg Licensing Champion Status Quo (by Stedinger) finished second with 7.2.
5-year old Dressage Horses
1. Sacre Coeur - Schulz, Sascha - 8.50
2. Damon Jerome H - Gräf, Uta - 8.30
3. Jazzqueen - Burger, Katrin - 8.20
4. Special Dance - Burger, Katrin - 8.00
5. Douceur - Krafft, Paulina - 7.70
6. Don Glory - Neubert, Joachim - 7.70
7. Hamilton - Möller, Kristine - 7.60
8. Lux-Dressage Statesman - Mc Cormack, John - 7.40
9. Lux-Dressage Sonnenreiter - Mc Cormack, John - 7.40
10. Blanc Pain - Möller, Kristine - 7.30
11. Destino - Essig Gunther - 6.90
6-year ol Dressage Horses
1. Fürstengruß - Schulz, Sascha - 7.80
2. Status Quo - Schmitz, Thomas - 7.20
3. Santinis - Theis, Jascha - 7.10
4. Steven King - Kirkegaard, Anne - 7.00
5. Moviestar - Häschke, Antje - 6.80
Back to the 2010 Bundeschampionate Index