2010 Bundeschampionate Qualifier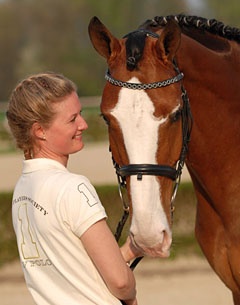 Luxembourg based riders took the trophies at the 2010 Bundeschampionate qualifier hosted at Hofgut Petersau in Frankenthal, Germany, on 7 - 9 May 2010.
The 5-year old Dressage Horse test was won by Danish born Kristine Møller, whereas the 6-year old division was dominated by Luxembourg's leading young horse rider Sascha Schulz.
The 27-year old Kristine Møller is having the career any ambitious young professional rider hopes for. After having worked for Fie Skarsoe at Gestut Wiesenhof in Germany, she is now head rider at Cynthia and Jens Thorsen's Gestut Pallerhof in Niederpallen, Luxembourg. Originally from Esbjerg, Denmark, Møller aced the 5-year old test aboard Freak Blue Phantom with an 8.30. Her 5-year old Oldenburg gelding is by Florencio x Feinbrand and was acquired by Thorsen at the 2009 Classical Sales Warendorf auction.
"He went very well at only his third competition in his life," Møller told Eurodressage about Freak Blue Phantom. "I'm very proud of him. He's a fantastic horse with a lot of talent." 
Møller tied with Sascha Schulz on Sacre Coeur (by Sir Donnerhall). Uta Gräf and the licensed stallion Damon Jerome H (by Damon Hill) placed third with 8.2.
Schulz was the only rider in the 6-year old class to score 8.0 (or higher) and qualify for the Bundeschampionate. He saddled Lisa Arendt's Oldenburg bred Furstengruss (by Furst Heinrich x Welt Hit II) and scored 8.0 to win the class. They beat Dorothee Schneider on Special Gold. 
Results 2010 BuCha Qualifier at Hofgut Petersau
5-year old Dressage Horses
1. Kristine Möller - Freak Blue Phantom - 8.30
1. Sascha Schulz - Sacre Coeur - 8.30
3. Uta Gräf - Damon Jerome H - 8.20
4. Dorothee Schneider - Labatuga M - 8.00
4. Dorothee Schneider - Stockholm - 8.00
6. Carsten Peeters - Starbucks - 7.70
7. Kristine Möller - Hamilton - 7.60
8. Katja Weisbrod - Rosenstolz - 7.20
9. Katja Weisbrod - Don Larnels - 7.10
10. Andreas Brandt - Saalefürst - 7.00
11. Günter Essig - Destino - 6.90
12. Melanie Metzner - Florestana - 6.80
13. Carolin Brandt - Hope - 6.70
14. Lone Hendricks - Hajanus - 6.40
15. Antje Häschke - La Belladonna - 6.30
6-year old Dressage Horse Test
1. Sascha Schulz - Fürstengruß - 8.00
2. Dorothee Schneider - Special Gold - 7.80
3. Jascha Theis - Santinis - 7.40
4. Volker Möller - Grimaldi AS - 7.10
5. Andreas Brandt - Pago Go - 7.00
6. Antje Haschke - Moviestar - 6.90
Back to the 2010 Bundeschampionate Index