FEI Dressage News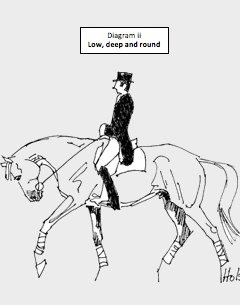 The FEI released the three diagrams that illustrate the permitted positions of the horse's head and neck during pre- and post- competition training.
The new Annex (XIII), which has now been completed, was created by the Working Group that produced a revised FEI Stewards Manual on warm-up techniques for Dressage.
One of the key stipulations in the Working Group's report was that all unacceptable training methods and techniques must be stopped immediately. The Working Group was also insistent that abuse of the horse must be avoided and, in particular, stressing the horse, aggressive riding and inflicting pain and/or discomfort on the horse must be prevented.
The current FEI Stewards Manual already includes instructions covering aggressive riding, but the new Annex (XIII) has clear instructions on action to be taken if necessary relating to flexion of the horse's neck during pre and post-competition training.
Any head and neck position obtained through the use of aggressive force is not acceptable. Movements which involve having the horse's head and neck carriage in a sustained or fixed position should only be performed for periods not exceeding approximately 10 minutes without change.
Deliberate extreme flexions of the neck involving either high, low or lateral head carriages, should only be performed for very short periods. If these deliberate extreme flexions are performed for longer periods the Steward will intervene.
It is the Steward's responsibility to ensure that riders respect these procedures.
"Used in conjunction with the new Stewards Manual, these illustrations now provide the Stewards with the final piece in the jigsaw that will allow them to do their job more effectively, ensuring that horse welfare is maintained at all times", said Working Group Chair Frank Kemperman.
The diagrams show examples of acceptable head and neck positions.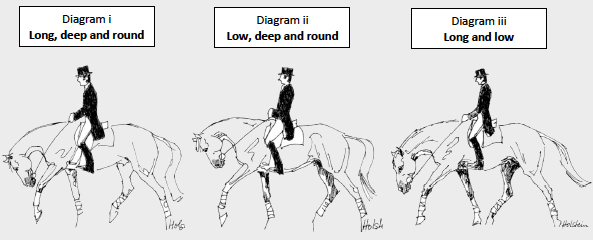 The illustrated FEI Stewards Manual Dressage has been sent to all National Federations today, with a request to forward it to all their Stewards immediately for implementation on schedule from 15 May 2010 onwards. Dressage will be the first discipline to use the new Stewards Manual, with the other FEI disciplines currently reviewing their individual requirements.
The Guidelines, which were produced by the Working Group formed after the round-table conference held in Lausanne on 9 February 2010, were approved at the FEI Bureau meeting in Geneva on 15 April 2010. More information on the Guidelines can be obtained here.
The Working Group was made up of Dressage Committee Chair Frank Kemperman (Chairman), Richard Davison (GBR), Rider/Trainer; John P. Roche (IRL), FEI Director Jumping/Stewarding; Jacques Van Daele (BEL), FEI Honorary Dressage Steward General/Judge; Wolfram Wittig (GER), Trainer; and Trond Asmyr (NOR), FEI Dressage and Para Equestrian Dressage Director/Judge. Input was also received from Dr Gerd Heuschmann and Sjef Janssen and from the FEI Jumping Committee.
The FEI Stewards Manual Dressage can be viewed here.
The full report of the Working Group can be viewed here
Related Links
Guidelines for FEI Stewards Approved in Geneva
Steward Working Group to Submit Report on Warm-Up Guidelines to FEI Bureau