German Dressage News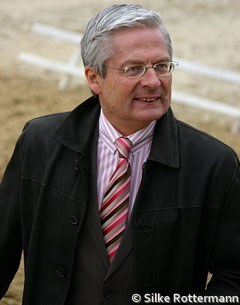 The South German Breed Societies are organizing an exclusive panel discussion titled "Servant or King, the Future of the Dressage Horse" at the 2010 CDI Munich in Munich, Germany, on 14 May 2010. This highly interesting symposium was not announced to the international public at all, which is typical of lamentably, poor equestrian publicity in Germany.
However the event could produce a very constructive and appealing debate on what modern dressage show look like and is a recommendation for all dressage enthusiasts.
The symposium takes place on Friday afternoon in the new indoor arena at the Riem Riding centre. Invited panellists are Holger Schmezer (German Grand Prix team trainer), Dr. Dietrich Plewa (international judge and trainer), Jan Tönjes (breeding and dressage journalist), Hans Riegler (Head Rider at the Spanish Riding School in Vienne) as well as Gotthilf Riexinger (show organizer and I-judge). 
The modern dressage horse will be discussed, going from foal to Grand Prix horse, and the sessions will be supported by practical demonstrations. It is rumoured that Cees Visser, owner of Moorlands Totilas, will be participating in this debate, though this is not officially confirmed. 
More info can be found at www.pferdinternational-muenchen.de 
Photo © Silke Rottermann