Irish Dressage News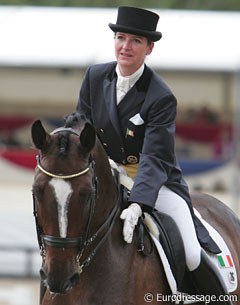 Anna Merveldt is the winner of The Irish Field Dressage Rider of the Year Award for 2009. The awards were presented at Tattersalls, Fairyhouse, County Meath, Ireland on Tuesday, May 4, 2010 by the editor of the Irish Horse World Siobhan English.
This is a record-breaking sixth award win for the Italian-based rider. Anna produced the best performance by an Irish rider at five-star level in over a decade when qualifying for the Grand Prix Kür in Aachen last July and going on to complete in 13th place with Coryolano. It was all the more remarkable as it was the first time the gelding had competed in an international Freestyle class.
Anna opened her account in 2009 with an Intermediare II win at the three-star show in La Mandria, Italy and went on to place third in the Grand Prix and Grand Prix Special.
Her good season continued in June with top-three placings at Lipica and Ascona and from there she represented Ireland at the European Championships in Windsor, where she completed in 25th place.
She finished her season on a high when scoring a hat-trick with Coryolano in La Mandria, Italy in October, winning the Intermediaire II, Grand Prix and Grand Prix Special.
The other award winners announced are as follows:
The Irish Field Senior Show Jumper of the Year 2009 – Cian O'Connor (Winner of Olympia Grand Prix and 2nd in FEI World Cup qualifier at Olympia with Rancarrado)
The Irish Field Young Show Jumper of the Year 2009 – Kellie Allen (Individual Gold medallist and team silver medallist at European Pony Championships, Moorsele, Belgium)
The Irish Field Senior Event Rider of the Year 2009 – Patricia Ryan (Winner of HSBC FEI World Cup Qualifier at Tattersalls)
The Irish Field Young Event Rider of the Year 2009 – Joseph O'Brien (Winner of individual bronze medal at European Pony Championships, Moorsele, Belgium [Note – Son of leading racehorse trainer Aidan O'Brien] )
Previous winners of The Irish Field Dressage Rider of the Year Award (first awarded in 1997) are as follows:-
1997 – Yvette Truesdale
1998 – Heike Holstein
1999 – Katy Price
2000 – Anna Merveldt
2001 – Anna Merveldt
2002 – Anna Merveldt
2003 – Heike Holstein
2004 – Anna Merveldt
2005 – Heike Holstein
2006 – Anna Merveldt
2007 – Heike Holstein
2008 – Judy Reynolds
Related Links
Anna Merveldt Wins Irish Field Award for Fifth Time
Merveldt Steffens Wins Her Fourth Irish Field Award