Mexican Dressage News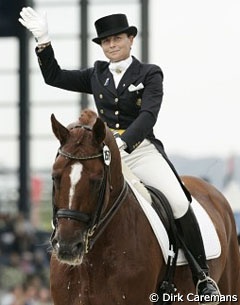 The glorious partnership between Mexican Grand Prix rider Bernadette Pujals and her star horse Vincent has come to a tragic end. The chestnut Hanoverian stallion (by Weltmeyer out of Attika (by Azur)) suffered from a severe colic attack yesterday evening.
He was transported to the veterinary department of the national university in Mexico City, where he was operated on. Unfortunately his colon was severed and reconstruction proved impossible. Vincent was euthanized at 23h00 on 3 May 2010. 
The story of this unique dressage combination was one with heroic proportions. In 2006 Bernadette almost "lost" her horse in a nasty divorce. She had to give up the house and farm she built up in Mexico City to keep Vincent, who was shipped to Germany to be sold. Pujals reunited with Vincent two weeks before the World Equestrian Games in Aachen, where they finished tenth individually. It was an accomplishment unheard of for a rider with so little exposure to the European dressage world and to the judges. 
Two years later the pair competed at the 2008 Olympic Games in Hong Kong and ranked ninth individually.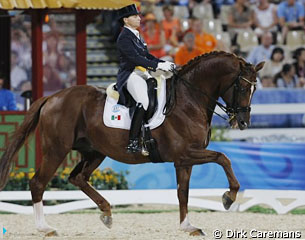 The 18-year old Vincent, who was bred by Hubertus and Annette Bühmann and originally named Weltadel II, had qualified to compete at the 2010 World Equestrian Games in Lexington, KY, USA, upcoming autumn. Sadly this goal will never be reached.
"He was only the best horse in the world but also my dearest partner and friend," Pujals told Eurodressage. "When it comes to Vincent I would say, 'when we feel what we love and love what we do, nothing can stop us'."
The dressage world lost a great horse yesterday. 
Photos © Dirk Caremans
Related Links
Pujals and Vincent, Head Turners at the 2006 World Equestrian Games
Meet Jonny Hilberath
Dressage in Latin America and the Caribbean
Horsesdaily: Bernadette Pujals and Vincent's trip to the top of the world