Dutch Dressage News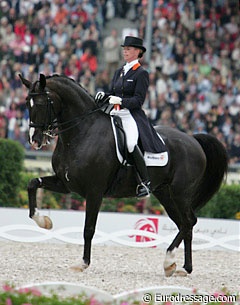 Dutch equestrian magazine De Hoefslag reported that Salinero's injury to his withers is more severe than initially diagnosed. The recovery is taking longer than expected
which means that Salinero's break from work will have to be lengthened as he's not allowed to carry a saddle.
"The capsule and cartilage of the withers are damaged and after a week and a half recovery there is no improvement. Anky will not be sitting on him for at least a month," Janssen told De Hoefslag.
Last week, Van Grunsven released the news about Salinero's minor injury. The 16-year old Hanoverian gelding most likely got cast in his stall because they found him with a swelling on the withers in the morning. The vet initially diagnosed that it would take three weeks to heal.
Photo © Astrid Appels
Source: De Hoefslag
Related Links
Three Weeks Off for Salinero due to Minor Injury 
Anky van Grunsven to Continue Competition Career Until London 2012