Portuguese Dressage News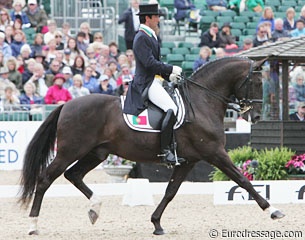 Portuguese Grand Prix team horse Galopin de la Font has been sold to Brazil. The 1994 born liver chestnut Lusitano stallion was previously ownd by Sylvain Massa, who sponsors Galopin's rider Daniel Pinto.
Pinto and Galopin de la Font (by Espanto out of Pezuda (by Zorro x Furia)) have been long time members of the Portuguese Grand Prix team. They competed at the 2006 World Equestrian Games in Aachen, the 2007 European Championships in Turin, the 2008 Olympics in Hong Kong and the 2009 Europeans in Windsor. At the 2007 World Cup Finals in Las Vegas they won the consolation finals.
Galopin's new owner is the Brazilian Chantal de Larragoiti Lucas. Chantal's family were the founders of the huge Brazilian insurance company SulAmerica. Her brother Patrick de Larragoiti Lucas is also a board member of the Geneva Association, a global think-tank for the insurance industry.
De Larragoiti Lucas will keep Galopin in training at Massa and Pinto's Dressage Academy near Lisbon, Portugal.
Photo © Astrid Appels
Related Links
Definite Entries for the 2009 European Dressage Championships
Portuguese Olympic Dressage Team Announced
Maria Caetano, 2008 Portuguese Grand Prix Dressage Champion