2010 World Championships for Young Dressage Horses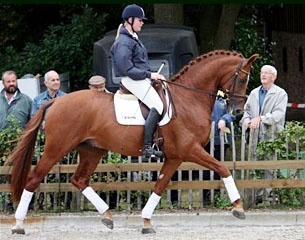 The first Dutch selection trial for KWPN horses which aim for qualifiication for the 2010 World Young Horse Championships in Verden was held yesterday at the KNHS Head quarters in Ermelo, The Netherlands.
Ten 6-year olds and twelve 5-year olds qualified to participate in the second selection trial and combined training sessions, in which these Dutch horses will be prepared for competition in Verden. From this long list, a final group of qualificants will be nominated for definite entry.
The selection committee consists of O-judge Wim Ernes, Johan Hamminga and Gert van den Hoorn. Ernes told Horses.nl that, "we saw some great riding in the 5-year old division and the quality of the group was very good in comparison with other years. We had less opportunities to make a good selection in the 6-year old division. A few combinations have to work on their test-riding. We have made a selection today but we didn't want to judge too strictly now. We need to keep plenty of possibilities to select further in this group at the next trials."
The following trial is 20 April 2010 in Ermelo.
Qualified 5-year olds
Aendolyn (Krack C x Donnerhall) – Vai Bruntink
Androdine (Sandro Hit x Rubinstein I) – Margreet Prosman
Angush (Special D x Jazz) – Diederik van Silfhout
Anieni-K (United x Jetset D) – Margot Kostelijk
Anne Beth (Oscar x Corleone) – Vai Bruntink
Annerijke (Jazz x Gribaldi) – Jennifer Sekreve
Apache (UB 40 x Krack C) – Emmelie Scholtens
Aston Martin NL (Uphill x Cabochon) – Christa Laarakkers
Astrix (Obelisk x Olivi) – Emmelie Scholtens
Authentic (Furst Heinrich x Kennedy) – Joyce Lenaerts
Presidents Allright (Jazz x Royal Dance) – Laurens van Lieren
TC Athene (United x Jazz) – Jessica Buying
Qualified 6-year olds
Hunter Douglas Zan Tropez (Hemmingway x Boreas) – Pim Candel
Zamora (Krack C x Farrington) – Lynne Maas
Zarah (Oscar x Montecristo) – Lotje Schoots
Zecchino (Krack C x Vindicator) – Remy Bastings
Zico (Riant x Ferro) – Stephanie de Ruiter
Ziësto (Lancet x Clavecimbel) – Gerdine Maree
Zippo (Rousseau x Haarlem) – Patrick van der Meer
Zjengis Khan (Rousseau x Rubinstein I) – Nikki Schaap
Zolena (Sir Sinclair x Cabochon) – Annarein Kerbert
Zorro (Jazz x Contango) – Geert-Jan Raateland