German Dressage News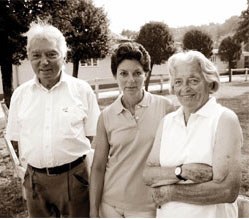 The German equestrian world has lost another great one. We sadly report the passing of renowned dressage rider Inge Theodorescu. The 84-year old former show jumping and dressage rider passed away after a long illness on Sunday 11 April 2010.
Inge Theodorescu was the daughter of the well known hippologist and state stud manager Hans Fellgiebel. She was first married to world famous show jumper Hans Gunter Winkler and later on to legendary dressage trainer Georg Theodorescu. She is the mother of the multiple Olympic team gold medallist Monica Theodorescu.
Inge Fellgiebel grew up in Poland, where her father managed the state stud Janow Podlaski for the German army. The house of her parents was the headquarters for the resistance group of Graf Stauffenberg, which planned to assassinate Hitler during World War II. Her uncle Erich partook in the conspiracy and was hung for his actions. Inge's father was emprisoned but released after the war.
Inge trained young horses for the German army. Between the 1950s and 1970s she was one of the best riders in Germany. She competed on the German team twice, showed in the Hamburg Show Jumping Derby three times and thrice won the blue ribbon in the dressage derby. To date Inge Theodorescu is the only woman every to have ridden both the dressage and show jumping derby.
At the Lindenhof in Sassenberg, Germany, Inge Theodorescu trained dressage horses together with her husband Georg and daughter Monica. She took care of the farm when the rest of the family was on the road to competitions. After the fall of the iron curtain, Inge devoted much time to training Polish dressage riders.
A great dressage rider and woman has sadly passed away. Rest in peace.
Related Links
Georg Theodorescu Passed Away 
A Walk on the Premises of Georg Theodorescu 
A detailed biography of Inge Theodorescu (in German)
Der Spiegel in 1957: Article about showjumping in 1957 (in German)