2010 CDI Addington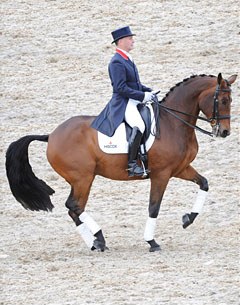 Addington CDIJYP 2010 was an opportunity for several new combinations to find their feet in International competition, providing mixed fortunes for British riders.
At senior level at least British riders came out on top with Carl Hester and the 16 yr old Donnerhall gelding Dolendo making their comeback to claim the Grand Prix on 69.66%.
Scores were tight at the top with just one percentage point separating the second to sixth placed riders in the grand prix - including Richard Davison and Hiscox Artemis in second place on 67.66%, Anna Ross Davies and Pegasus MK in fifth on 67.06% and Gemma Green and Showtime in sixth on 66.68%.
Not to be outdone, Davison and the 11 year old Florestan gelding Hiscox Artemis battled back to take a decisive first in the freestyle on 74.60%. Carl Hester and Dolendo finished a close third on 73.70% with The Netherland's Christa Laarakkers and Divosa Horseworld Ovation edging in for second on 73.75%.
Davison commented: "I was pleased enough with how he responded in the grand prix, but the amount of energy and impulsion we are training for caused one or two expensive mistakes. When it came to the freestyle I thought b***er it why should I let Hester take all the prize money! Hiscox Artemis really got into the competition zone and felt easy, confident and responsive - it paid off and I took twice as much!"
In the pony tests Dutch rider Dana van Lierop with Lord Champion remained unbeaten but 16 year old Claire Gallimore from St Albans in Hertfordshire carried British hopes, posting a second and third in the team and individual tests before rounding off her show with a second in the freestyle and a personal best score of 77.08% to their Born Free medley.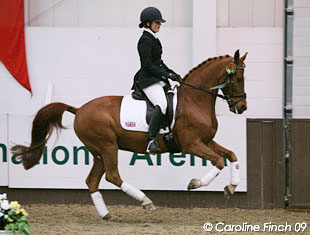 "We've been training over the winter with Dan Sheriff and really grown as a partnership" commented Gallimore. "I'm really pleased with how it went, it's a great result. He went really well to the music and now we're shooting the scores I'm aiming for selection onto the Pony Europeans team later this year. It's on home soil and I know competition for spaces will be tough."
Making her debut at young rider international level European para medalist Sophie Wells got closest to the Belgian rider Brecht D Hoore who led throughout the competition. After a difficult start to the show when Pinocchio got his tongue between his bits they recovered their composure to finish second in the freestyle on 69.91% .
Sophie commented: "My trainer Angela Weiss was a star, I couldn't have done it without her. She knows us both so well and helped us recover our confidence. To be up there on a par with Brecht is a real achievement and a first for a para rider at young rider level, I'm really pleased."
Source: British Dressage
Related Links
Scores 2010 CDI Addington
Morgan Barbançon Sweeps Trophies at 2010 CDI Addington