American Dressage News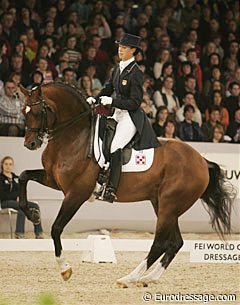 American Grand Prix rider Courtney King-Dye has left the hospital in West Palm Beach, FL, on Thursday March 25 and moved by air ambulance to the Kessler Rehabilitation Institute in Teterboro, NJ, USA.
"She handled the seemless transition well and is now settled at Kessler Institute, which is widely regarded as one of the top in the Nation.," Courtney's husband Jason Dye wrote.
Courtney is no longer officially in a coma but still needs more time to fully emerge. "The Head of the Brain Injury Department has described her current phase as being at the higher end of a "Minimally Conscious State". She has some awareness of her surroundings and responds inconsistently to requests," Dye explained.
Kim Boyer, owner of Courtney's FEI horse Grandioso, told Eurodressage that "The first day Courtney sat up in a chair, they expected her to tire out after an hour. She sat for five hours. That's the same Courtney we've always known."
At the Kessler Institute, Courtney has begun physical, occupational and speech therapy. This facility specializes in athlete rehab and her trainer Lendon Grey King has indicated that Courtney is up for each day's challenge.
Related Links 
eBay Store to Raise Funds for Courtney King-Dye Medical Fund 
Update on Courtney King-Dye's Condition 
Courtney King-Dye Severly Injured in Riding Accident