2010 Australian Young Horse Championships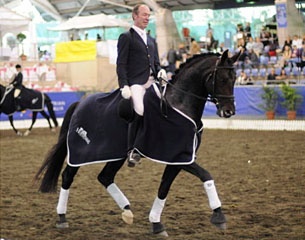 San Jose was sashed the Champions of Champions at the 2010 Dressage with the Stars, on Saturday night at the Werribee Park State Equestrian Centre in Melbourne, Australia on 20 March 2010.
The 2010 Australian Young Horse Championships produced San Jose as 6-year old winner, Bellario as 5-year old champion and SS Sonata Hit as 4-year old champion. Those three battled against each other and the German bred San Jose was proclaimed Champion of Champions.
San Jose (by Sandro Hit x Rubinstein x Weltmeyer) is owned by Matthew Dowsley, who purchased the promising youngster as a 2-year old from his good friend Sylvia Johannsen in Germany.
"He has 'what it takes' to reach the highest level of Grand Prix and becoming the Champion of Champions from the excellent field of horses at this event has surely been the highlight of San Jose's career so far, I could not be more pleased," Dowsley told Berni Saunders of Cyberhorse.net.au.
The winner of the 4-year old division was the imported SS Sonata Hit under Rodney Martin. Owned by lawyer Andrea Beatty, the gelding is by Australia's favoured stallion Sandro Hit out of PSI Octavia (by Clintino x Landadel).
The imported stallion Bellario (by Belissimo M x Wolkenstein ll) won the 5-year old championship. He is owned by Kate Barton from Western Australia, so it was a very long trip right across our vast continent for the youngster to take part at this event. Bellario was ridden by Deon Stokes, who has enjoyed a successful career as an event rider and has made the transition to dressage.
The guest riding judge was Ton De Ridder. He was happy to share his riding experiences with the crowd and explained how he made his decisions. Ton left the Champion of Champions decision to the audience when he asked the knowledgable and enthusiastic crowd to choose their winner by applause after the performance of the top horse from the three age group classes. San Jose won by popular choice.
Read a more detailed report of Dressage with the Stars at Cyberhorse
Related Links
Shiraz Black, Champions of Champions at 2008 Dressage with the Stars
Greenoaks Legend, Champion of Champions at 2000 Dressage with the Stars 
Scores 2004 Dressage with the Stars