American Dressage News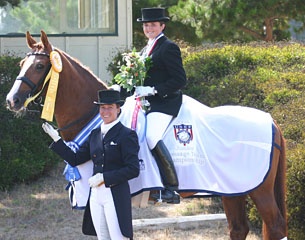 The American owned Dutch warmblood licensed stallion Facet was humanely euthanized today for colic related reasons. The chestnut stallion, who became the 1990 KWPN licensing champion, was 22-years old.
"He'd never been ill until recently," owner Gay Walker told Eurodressage. "In recent weeks, he's shown a lack of appetite, no matter how we tried to coerce him, and he'd been dropping weight. He had two minor colics in the last two weeks and had a severe one today. At his age, we didn't think it fair to subject him to surgery and elected to ease his pain."
Facet was bred by the renowned Gert Willem van Norel of the Pretendenthoeve and was by Vanitas out of keur preferent mare Adriana (by Tolbert x Courville xx x Magneet). Facet was proclaimed "Stallion with the Best Trot" at the 1990 KWPN stallion licensing. At his stallion performance test, Facet scored 7,5 for walk, 8 for trot and 7 for canter. He also got 8 for the riding test and 9 for character.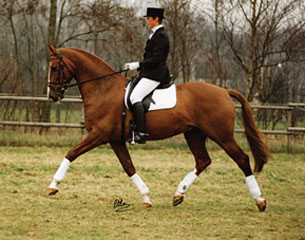 Facet was first competed by Mieke de Kok, who became Dutch Z2-level champion in 1994. In 1996 Dutch Olympian Ellen Bontje took over the ride and showed him internationally at small tour level. The stallion sold to German Manfred Queck, a student of Bontje, and later to the German-Grecian Gerda Lehmann.
In February 2003, Facet moved on to his last owner, the American Gay Walker, who bought the horse for her daughter. The stallion was imported to the United States and first competed under trainer Jennifer Hoffmann at Intermediare I level, winning Reserve Champion in the U.S. Region 7 Championships.
In 2004, the 14 year-old Susan Walker campaigned the licensed stallion at the FEI Junior level. The pair were members of the Gold Medal Team at the USEF Junior Dressage Team Championships and placed third individually.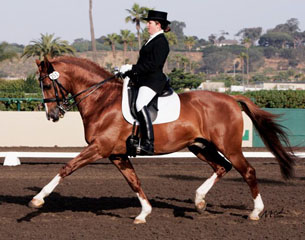 "What I loved most about him was his honesty," said Walker. "He was a horse that you always knew with complete certainty that he gave you what you asked for. The mistakes were yours, never his. He didn't know the meaning of the word evasion."
Facet retired from competition at the end of 2004, but never from work. "He enjoyed life at stud, and he insisted on being ridden and served as an honest and generous schoolmaster until the end," Walker told Eurodressage. "His life was filled with joy, as were the lives of those who were honored to know him. There are none kinder, more generous or more trustworthy than Facet. Thank you for blessing my life from the day you entered it."
Facet has many older offspring from his European breeding career. Reese Koffler's Goubergh's Kasper and Jessica Costello's Litmanen are two Facet sons who compete at international Grand Prix level. In the United States, his foals are too young to have begun significant competitive careers, as he did not start breeding in the States until 2004. His oldest U.S. offspring are coming 5-year olds.
Facet was approved for the KWPN society and Zweibrucken Verband.
Photos © Ellen van Leeuwen, Amy McCool
Related Links
KWPN Stallion Facet Sold to the United States
Rider in the Spotlight: Ellen Bontje