Australian Dressage News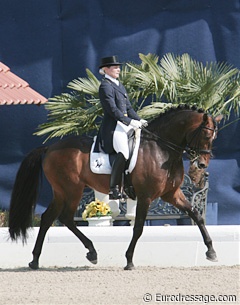 Australian Olympian Hayley Beresford is saying goodbye to Isabell Werth's stable and will relocate to Switzerland, to become the head trainer at Otto Hofer's dressage academy in Grabs. Beresford will only be taking her Olympic mount, Eduardo Fischer's Relampago do Retiro, with her.
Hayley's husband Kian Bullock, is a civil engineer, who used to be employed in London. He received a job opportunity in Switzerland which he couldn't pass up. Hayley will join him in the Alps. Otto Hofer, aged 65, is a seven-times' Swiss Dressage Champion and multiple Olympic medaillist (Los Angeles 1984: team silver and individual bronze, Seoul 1988: team silver). According to Isabell Werth, Hayley will take over the training at the Hofer-barn, because Otto Hofer will reduce his active riding for reasons of age.
In November 2006, Hayley arrived at Isabell's stables in Rheinberg, Germany, where she spent the past 4 years learning, training & competing under the ever watchful eye of one of the worlds best dressage riders.
Since her move to Germany, Hayley has had some major celebrations.  In 2007 Hayley made her first International debut at the CDI Hagen with Relampago do Retiro (Reli) in both the PSG and Int I.  The following year, Hayley and Reli represented Australia at the Olympic games in Beijing.
Hayley is absoloutely clear that Isabell & Ton de Ridder will remain her coaches and will continue to work closely together to ensure the lead up to both Kentucky and London prove successful. 
Related Links
Olympian Isabell Werth Celebrated in her Home Town
Ton de Ridder to Present 2010 Saddleword Dressage Masterclass 
Hayley Beresford Marries Kian Bullock in Pozitano, Italy